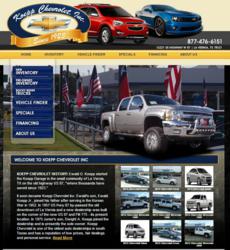 Koepp Chevrolet is a well-recognized dealership in La Vernia and we are proud to be their dealer website provider.
Sioux Falls, SD (PRWEB) December 05, 2012
Carsforsale.com is excited to launch the new auto dealer website for Koepp Chevrolet Inc. Koepp Chevrolet Inc. has joined the Carsforsale.com network to take advantage of the millions of monthly auto shoppers on Carsforsale.com. Koepp Chevrolet of LaVernia, Texas also upgraded their site in an effort to remain competitive and take advantage of the great lead generating websites in the extensive Carsforsale.com network.
Their new website includes not just a full dealer website targeted to their specific market, but a mobile dealer website, optimized vehicle videos, integrated social media, eBay posting, Ad Template Builder to use with sites such as Craigslist, optimized inventory listings on the Freeclassifieds.com site and regional Carsforsale.com sites.
Being associated with Carsforsale.com gives them access to the national automotive lead generating website with millions of vehicles for sale. Koepp Chevrolet website gives them the advantage over other automotive dealers in the southeast San Antonio marketplace.
"Koepp Chevrolet is a well-recognized dealership in La Vernia and we are proud to be their dealer website provider," said Aaron Oestreich, Manager at Carsforsale.com. "Koepp Chevrolet and Carsforsale.com both believe that auto shoppers are primarily on the Internet, especially on cell phones and tablets. We are confident that our dealer websites and our mobile dealer websites can connect local and regional car buyers with Koepp Chevrolet."
About Koepp Chevrolet Inc.:
Koepp Chevrolet, Inc. is located in LaVernia, Texas about 30 minutes outside of San Antonio. They can be found at http://www.koeppchevrolet.net.
About Carsforsale.com:
Carsforsale.com is the industry's expert in the online auto market. Carsforsale.com is dedicated to offering all the necessary amenities to dealers to bring buyers and sellers together. Simple, powerful and effective advertising solutions – that's carsforsale.com. Carsforsale.com offers one of the most affordable advertising solutions for auto dealers with pricing as low as $99 for complete inventory listings. Carsforsale.com reaches millions visitors each month and is a privately held company.
###