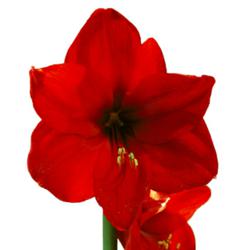 "For a classic holiday look, try decorating with traditional holiday flowers like Amaryllis."
Ojai, CA (PRWEB) December 05, 2012
FiftyFlowers.com, a website that sells wholesale flowers, has a number of classic special event flowers as well as some fun festive flowers to add bling to your holiday table or winter wedding. They carry everything from wreaths, garlands, gold and silver tinted flowers, pre-made holiday centerpieces, and fresh-cut Amaryllis.
Add instant holiday sparkle with tinted products like Gold Tinted Seeded Eucalyptus, or Snow White Tinted Thistle and Sparkling Red Billy Balls. Brides and event planners on a time crunch can order wholesale, pre-made holiday centerpieces or visit the blog for simple do-it-yourself tricks that incorporate wreaths and garlands, these ready to use pieces are great when working on a time or budget constraint.
For a unique holiday tablescape combine creamy white roses with frosted greenery like dusty miller, lamb's-ear or even frosted plum succulents. Nestle the roses and frosted greens together in a low fish bowl placed on a serving platter, and then fill the platter with other wintery delights like pinecones and ornaments. Continue the frosted-greenery affect across the platter by tucking a few short stems of dusty miller or lamb's-ear, in water tubes, between the pinecones and ornaments. For a touch of holiday sparkle, add a few sprigs of silver tinted seeded eucalyptus or baby's breath. This nature inspired look is sure to awe holiday guests and is simple to create.
For a classic holiday look, try decorating with traditional holiday flowers like Amaryllis. This fresh flower would dress up any winter wedding bouquet, holiday table centerpiece or Christmas flower arrangement. Often described as having an "explosive bloom," these showy flowers range from 3 to 6 inches in diameter and each stem features up to 2 to 3 blooms. This is one of the reasons that the Greeks named this flower amaryllis, meaning splendor. When grown, these bulbous flowers tend to erupt and reach taller than other flowers around them, because of this they are often considered a symbol of pride and radiant beauty.
The Amaryllis flower is a perfect flower for high and low table centerpieces. Cut one stem short and place it in a short vase in front of each table setting, cut another stem to a medium height and place in a tall, cylindrical vase. Then, cut a third stem taller than the previous two and place it into a third vase. For a more dramatic look, order two or three colors of Amaryllis and switch the colors and heights, continue this look down the length of a long table for an eye-catching centerpiece.
FiftyFlowers is always bringing customers a great selection of trend-setting flowers at wholesale prices. Visit their Blog and Pinterest page to see these ideas in action or for more holiday flower-arranging tips. Holiday flowers will be featured in their weekly sale items for the next few weeks.