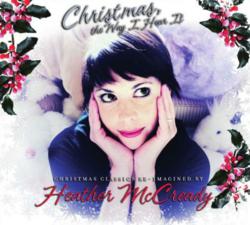 "The dark hole in their heart where their monster of depression lives only grows deeper and more dangerous in contrast with the blinding lights and bombarding images of holiday cheer."~Heather McCready
Fort Worth/Dallas, TX (PRWEB) December 06, 2012
Folk artist, Heather McCready, is a treated bipolar person that has been stable for over 10 years following her treatment with the controversial medical procedure, Electro Convulsant Therapy (ECT), or "Shock Treatments". She claims the treatments saved her life. Her professional career as a singer/songwriter and creative folk artist took off after the loss of both her aunt and cousin to suicide only one year apart. Heather says solemnly, "I just couldn't fathom we had lost them. The stigmas and distortions about mental illness prevented them from getting treatment." She is raising her voice in concern this holiday season for the people that she fears will suffer from depression and commit suicide.
"The dark hole in their heart where their monster of depression lives only grows deeper and more dangerous in contrast with the blinding lights and bombarding images of holiday cheer." Heather McCready's sincerity and passion shine brightly in her eyes as she speaks about her hope that her music will do more than entertain this season. The quote on her website says "It is my hope to write peaceful music that inspires hearts and engages imaginations. I want to sing sweet songs, both happy and sad, with enduring melodies and a gentle voice. I love to use celtic sounds with tin whistles and the fiddle paired with other stringed instruments like my favorite, the cello! I need to breath a positive breath of fresh air into the world before I leave it one day. Whether it is with my music, my love of nature, photography, or through my honesty coping with both physical and spiritual trials- I hope that I will make you feel better somehow through these things. This is ME and I welcome you to look inside." This is a person who cares.
Tune in to see Heather McCready's Christmas Trio Performance with producer/arranger, Milo Deering and cello master, Brian Magnus live on "Good Morning Texas" on the Dallas/Fort Worth station, channel 8 at 9:00 CST Thursday, December 6. Heather and her band will be performing "What Child is This" live and recording "Silent Night" for the special Christmas programming on December 25th. Fox 4, "Good Day Dallas" will also feature Heather McCready and her bandmates on their Christmas Day music special.
Links to listen to and download or buy any of Heather McCready's five albums are available on her website, http://www.HeatherMcCready.com. Her music can be readily found on iTunes,CdBaby.com, and Amazon.com among others. Heather's music and message of hope can be heard around the world including regular airplay in The Netherlands, Australia, and on the BBC.