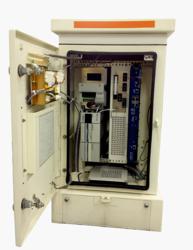 Richardson, TX (PRWEB) December 05, 2012
ASYMBLIX, the leading provider of OSP cabinet retrofit solutions, announced today the availability of two new kits for the retrofit of the popular and ubiquitously deployed AFC-48 cabinet.
The total retrofit solution for the cabinet is divided into two parts – cooling and mounting kits. The cooling kits consist of a roof fan conversion kit, adding a high-capacity impeller fan to the normally passively cooled cabinet, greatly extending its thermal capability. The fan is controlled by Asymblix' new Variable Speed Controller for optimal noise control and reduced power consumption. The cooling kits come equipped with a spacer bracket for the cabinet roof, and are subsequently offered in cross-connect or non cross-connect cabinet versions. The AFC-48 cooling kit may be added to any existing cabinet where excessive temperatures are a problem.
Complementing the cooling kits is a new mounting kit which makes up the bulk of the retrofit solution. The mounting kit includes an entirely new AC load center, 50-line protection panel, 2-slot Eltek power system, DC distribution, and all mounting rails, hardware and cabling required to complete the cabinet upgrade.
In May 2012, engineers from Triangle Communications of Havre, Montana approached Asymblix for help with the retrofit of some AFC-48 cabinets, which Triangle has deployed in numbers across its network. Looking for an upgrade path to a next generation POTS/DSLAM combo solution based around the Calix B6, Triangle evaluated the retrofit solution proposed by Asymblix and decided that it would be the most cost-effective solution to meet its needs.
"The smaller RSC family of cabinets from AFC has always been popular with retrofit applications", says Paul Forzisi, General Manager of the OSP Solutions Group at Asymblix. He continued, "The problem with the 48 was twofold – first the cabinet had no active external cooling like its larger brethren, second, in order to install standard 19" rack mount equipment, it required that it be mounted vertically, which therefore necessitated the replacement of the existing AC load center. Our engineers were able to overcome both these issues using some clever integration of our existing retrofit solutions."
Asymblix embarked on a development plan for the AFC-48 retrofit, keeping Triangle abreast of the development process and soliciting feedback along the way. Ultimately an FOA kit was shipped to Triangle for first deployment. "The first kit was a relatively straightforward install and the retrofit cabinet is now in service. The upgrade allows us to double the speed of DSL service to customers served from the retrofit cabinet. Our Internet service customers are very excited about the upgrade" says Greg Russell, Network Engineer for Triangle.
Triangle has a number of sites planned for upgrade and has already purchased multiple retrofit kits for deployment in its network.
The family of new retrofit kits for the AFC-48 cabinet is available now. For more details visit http://www.asymblix.com/retrofit.
About Asymblix
Based in Richardson, Texas, Asymblix has two primary business units: Assembly Services and OSP Solutions. Asymblix Assembly Services provides pre-manufacturing services for the electronics industry that help original equipment manufacturers (OEMs) bring products to market both faster and more cost effectively. Asymblix OSP Solutions provides custom engineering kits that enable telecom service providers to upgrade their local access service delivery infrastructure at minimum cost and time. Asymblix' retrofit kits enable a wide range of next generation telecom platforms to easily fit into the variety of remote cabinets that have been broadly deployed by Telcos over the last 30 years. For more information visit: http://www.asymblix.com.