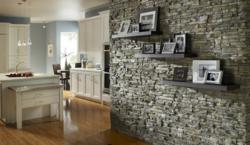 San Marcos, Calif. (PRWEB) December 06, 2012
Grey is neither the new black nor the new neutral, it's hot all on its own. From tailored suits to contemporary living rooms, grey is showing up on fashion runways, home furnishings, upholstery, paint colors and even literature. Eldorado Stone, manufacturer of the world's most believable architectural stone veneer believes grey matters, as evidenced in its stone profiles.
In response to the demand for more grey tones, Eldorado Stone presents Catania. This profile has a superior depth ranging from light to dark charcoal grey. Designed with a natural blend of multiple stone types, it offers a Tuscan feel, reminiscent of villas surrounded by tall grasses and roughhewn walkways.
Other available profiles are enhanced by shades of grey as well. The Mountain Ledge profile now includes Bow Valley, and Black River Stacked Stone, expanding the color selection to include charcoal and grey tones with the occasional warm hint of burgundy.
"We excel in offering profiles and colors in regionally relevant and nationally desirable tones and hues," says Eldorado Stone Vice President of Marketing Brent Spann. "We've received requests for more greys and now architects, designers and homeowners will find the perfect hue for their projects."
ABOUT ELDORADO STONE:
Eldorado Stone, LLC is headquartered in San Marcos, Calif. It is a subsidiary of Headwaters Incorporated (NYSE: HW), a world leader in creating value through innovative advancements in the utilization of natural resources. Eldorado Stone currently operates manufacturing facilities in several states with regional distribution centers across the U.S. For more information and to view a gallery of beautiful installations, visit http://www.eldoradostone.com or call 1-800-925-1491 for a free catalog.