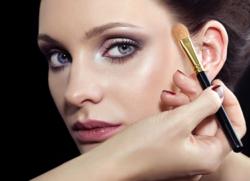 A research article in the International Journal of Oncology has demonstrated that green tea has anti-inflammatory and even cancer-preventative properties. The study's advice is to use skin care products containing green tea due to its great impact on ski
Anaheim, California (PRWEB) December 06, 2012
The well-known skin care company, Ageless Derma, has always long provided consumers with products derived from nature that work as effective anti aging alternatives to more invasive solutions, such as surgery or injections. An exciting new development has now reached the public with the creation of the company's full line of natural mineral makeup that also includes green tea extracts and vitamins in its listed ingredients.
The unique advantage that Ageless Derma now offers consumers is the ability of their pure mineral makeup to perform double duty as a wrinkle preventer. The makeup is manufactured in the United States and has incorporated green tea extract and Vitamins A and E into their formulations. These additions are widely known to be sun protectants, anti-oxidants and skin-healing ingredients that can work within the skin's cellular structure to decrease and prevent further wrinkling.
The finely crushed 100% pure minerals found in the Ageless Derma line include substances from nature, such as Iron Oxide, Titanium Oxide, Boron Nitride, Mica, Titanium, Zinc Oxide, and others; these are included to give your face flawless coverage and sun protection.
This anti aging mineral makeup seems to now have the edge on the natural beauty market. Ageless Derma's Mineral makeup contains no harsh chemicals at all and is free of toxic parabens. Many dermatologists are touting mineral makeup for patients who have sensitive skin, such as those who suffer from rosacea, because the nature of mineral makeup lies in its purity. When certain anti aging ingredients are added to the mix, the mineral makeup made by Ageless Derma will be soothing on sensitive skin, highlight the user's beauty, and turn back the clock on aging all with one fell swoop.
Green tea has been scientifically documented for its ability to protect the skin from sun damage. Sun exposure is a major cause of wrinkling and premature aging. Adding green tea extract to the zinc oxide in the mineral makeup has helped Ageless Derma create a sun protectant and wrinkle preventative all in one. Green tea also works to inhibit certain protein enzymes that cause age-related skin damage. A research article in the International Journal of Oncology has demonstrated that green tea has anti-inflammatory and even cancer-preventative properties. The study's advice is to use skin care products containing green tea due to its great impact on skin degeneration as people age.
The Vitamin E in this makeup is there to work as an antioxidant and healer. It staves off free radicals that cause skin damage and wrinkles. Vitamin A rebuilds skin tissues and keeps wrinkles at bay as it livens up dull skin.
Ageless Derma makes a complete line of anti aging beauty products including a Stem Cell and Peptide Anti Wrinkle Cream, a Skin Brightener, and a vitamin-enriched eye cream among other items.