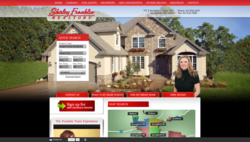 Springfield, MO (PRWEB) December 15, 2012
For Shirley Franklin Realtors, helping someone find their dream home or sell their former dream home is a passion. With the launch of its new website, franklinteam.com, the team has made the process simpler for both buyers and sellers by providing a wealth of information with a couple of clicks of their mouse.
According to Shirley Franklin, the team's new online portal puts more power in the hands of buyers and sellers than ever before and does so in a clear and concise manner.
"People are busy, and people who are trying to buy or sell a home are extremely busy," Franklin said. "What franklinteam.com allows them to do is conduct research on their time, whenever they want. This really is a 24/7 tool for them to use to get their process started."
From the site's homepage, guests can immediately conduct a quick search for several types of properties in 134 cities and set fixed minimum and maximum prices. Easy-to-read links on the homepage make it simple to find information about Shirley Franklin Realtors agents, properties, specific areas and upcoming open houses.
"Buying a home is a commitment," Franklin said. "When someone is making one of the biggest investments they will ever make, they need to consider everything. Where is it located? What is the community like? What are the schools like? When they click on the 'Find My Dream Home' tab on the homepage, we want them to be encouraged to dream. Giving them all of the resources we can on franklinteam.com is one way of doing that."
Franklin called the new website the team's "front porch," stating that even with all of the information available online, agents are available to speak to and easy to contact. In addition to having the team's main number on the franklinteam.com homepage, guests can click the "Our Agents" link at the top of the page to find individual agent phone numbers, fax numbers and email addresses. Additionally, each page of the website features links to Shirley Franklin Realtors' social media pages on Facebook, Twitter, Google Plus, LinkedIn and Pinterest.
"Of course we want to talk to everyone," said Franklin. "We just want everyone to have the option of getting as much information as possible before they dial any one of our agents."
That information includes testimonials from buyers and sellers, a clickable community map that instantly displays available properties, recommended businesses and blog articles that include everything from home maintenance to making pecan praline cookies.
To experience home buying and selling made easy, visit http://franklinteam.com/ today.
Shirley Franklin Realtors has 22 trusted agents ready to walk buyers and sellers through all facets of the real estate process. As respected members of the community, Shirley Franklin and her family have committed to serving their neighbors through fellowship and leadership. These same qualities have shaped and built Shirley Franklin Realtors into a devoted team that will do what it takes to make buyers' dreams come true.