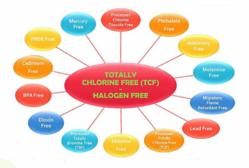 Greater levels of PBDEs are directly associated with verbal and mental intelligence deficits in children.
Tempe, AZ (PRWEB) December 07, 2012
Amerisleep.com announces the composition of their propriety fire barrier and educates consumers about the hazards of chemical additives amid concerns about mattress safety.
More consumers are starting to express concern about what is in products they buy, and how it affects their health and the environment. Mattresses in particular are under scrutiny due to recent laws requiring the addition of flame retardants, but not requiring disclosure of additives.
The reasoning for these laws is to protect sleepers from flammable materials often present in mattresses, cited as a hazard for those who smoke in bed or when fires begin nearby. The problem arises from the materials many manufacturers use to meet flammability standards.
One such additive frequently used is polybrominated diphenyl ethers, commonly known as PBDEs. These chemicals are known endocrine disruptors that make their way into the body via inhalation and skin exposure.
A study commissioned fairly recently by the Columbia Center for Children's Environmental Health revealed correlations between prenatal exposure to PDBEs and neurodevelopmental effects in infants, similar to those of lead exposure. The highly-controlled study provides evidence that the greater levels of PBDEs are directly associated with verbal and mental intelligence deficits in children, and replicates results from animal studies as well.
Amerisleep is releasing the composition of their fire barrier so consumers are aware that other options exist. All of Amerisleep's natural memory foam mattresses utilize rayon fire barriers. Rayon is a semi-synthetic fiber manufactured from natural polymers, originating from cellulose fibers. Because rayon does not contain harmful, dangerous chemicals, these mattresses provide a healthier alternative to those with chlorine, halogens, and PDBEs, while still providing fire retardant safety.
A core value of Amerisleep remains offering natural, safe products to its family of customers. With a commitment to improving quality of sleep and life, the brand continues to educate consumers and strive for transparency.
Amerisleep, owned by online retail collective OneMallGroup, retails highly-rated memory foam mattresses, adjustable beds and related accessories, in business since 2008. The company defines itself by exclusively offering American-made, environmentally sustainable products at competitive prices. Visit Amerisleep.com for more information.