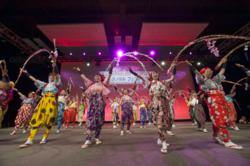 Honolulu, HI (PRWEB) December 06, 2012
WHAT: The Honolulu Festival is an inspiring celebration of the people and cultural diversity of the Pacific and Asia and is highlighted by fascinating performances and exhibits that attendees can enjoy for free.
The 2013 Festival's calendar of activities also includes the first-ever "Honolulu Rainbow Ekiden" relay race bringing participants together in the spirit of aloha. Following the race is the Grand Parade through Waikiki and spectacular Nagaoka Fireworks Show over Waikiki Beach.
WHEN: MARCH 1-3, 2013
WHERE: FRIDAY, MARCH 1, 6:30 p.m. – 8:30 p.m.
The Friendship Gala features exciting cultural entertainment by Honolulu Festival performers and the cuisine of Oahu's top restaurants. Held at the Hawaii Convention Center, the Gala is a benefit for the Honolulu Festival Foundation to support its educational and cultural programs.

Cost: $90 per person over age 21 / $70 for under 21 (children under age 6 are free)
Includes food and one beverage
SATURDAY, MARCH 2, 10:00 a.m. – 6:00 p.m.
SUNDAY, MARCH 3, 10:00 a.m. – 3:00 p.m.
Free cultural and arts performances at three locations: Hawaii Convention Center, DFS Galleria, and Waikiki Beach Walk
Enjoy dazzling performances and exhibits from the people and cultures of Japan, China, Taiwan, Korea, Australia, New Zealand, the Philippines, Tahiti, Canada, Alaska, and Hawaii. A highlight for children is the Ennichi Corner featuring activities and games.
SUNDAY, MARCH 3:
Honolulu Rainbow Ekiden, 12:00 p.m.
Runners are invited to race through Waikiki in Hawaii's very first "Ekiden" (long distance relay) race. A tradition of Japan for over 90 years, Ekiden features teams of 3-5 runners competing in this scenic six-kilometer race down Waikiki's famous Kalakaua Avenue.
Waikiki Grand Parade, 4:30 p.m. The Festival's performers and floats will captivate onlookers as they dance their way along Kalakaua Avenue.
Nagaoka Fireworks Show, 8:30 p.m. This spectacular fireworks show from Nagaoka City, Japan will light up the skies over Waikiki Beach.
INFORMATION: http://www.honolulufestival.com / @HonFestival / (808) 833-3378
HONOLULU – Supported by the Honolulu Festival Foundation, Hawaii Tourism Authority, and corporate sponsors, the Honolulu Festival is celebrating its 19th year in 2013 with a weekend of free arts and cultural displays and entertainment performances, March 1-3.
Under the banner of "Pacific Harmony" and the theme, "Transforming the world; Connect! Discover! Let each experience fascinate you!" the Honolulu Festival's goal is to help perpetuate the strong cultural and ethnic ties between the people of Asia-Pacific and Hawaii.
The Honolulu Festival Foundation supports educational and cultural programs for the benefit of Hawaii's schoolchildren and the community-at-large through public outreach and charitable efforts.