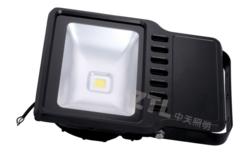 (PRWEB) December 14, 2012
Zhongtian Lighting, a reliable LED flood light supplier in China, announces the new product [ZT-FL-120W] to help enrich its production line as well as expand its business. It is widely used in billboards, highways, railways, tunnels, bridges and culverts, squares, buildings, hotel façade, and other outdoor places.
This flood light uses the latest LED technology for greatly reduced electricity costs, longer life, and lower heat output, compared to older lighting technologies. Typical usages for the 180W LED flood light [ZT-HB-1-180W ] include spot lighting, architectural lighting, commercial lighting, factory and work area lighting, retail lighting, public space and building exterior lighting, as well as many other interior and exterior lighting roles. Zhongtian Lighting uses the high pure imported aluminum as the reflector. This kind of reflector has high reflecting efficiency and can ensure the luminous flux. The special design of this reflector can improve the light uniformity ratio and utilization. Customers can control the light inside of a useful area.
The new LED lamp provides an outstanding color quality in a 3000K warm-white light and boasts a CRI of 82 that enhances colors and safeguards their fidelity. The focused beam of around 45 and 120 degrees generates brightness ranging from 21600 lumens to 24300 lumens. This LED flood light offers along-lasting durability and sturdy construction in an aluminum heat-sink body with UV-stabilized plastic PMMA lens over the latest generation of high-efficacy Epistar LEDs.
These economical, high-quality LED flood lights are perfect in track lighting, ceiling-can down light fixtures, security and emergency lights, general/architectural and landscape lighting, display case fixtures and cabinet lighting, sign spot lighting, OEM equipment lighting, bio-medical and medical applications, museums or theatrical-effects lighting.
Zhongtian Lighting is devoted to focusing on the technical innovation and minimizing its price for customers, and builds a good image to the world. Meanwhile, it will introduce other LED series, such as LED tubes, LED bay lights, LED bulbs, LED spot lights and so on. Thus, it will become a bigger comprehensive supplier of LED lights with various series and offer the considerate service to the customers.
Please visit http://www.ztlights.com to learn more about Zhongtian Lighting and its products.