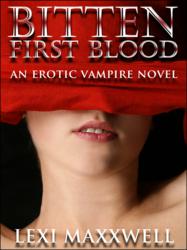 It's truly gratifying. Of course I was nervous. There's just so much more to juggle with a novel than a short, I'm thrilled to know my readers want more.
Las Vegas, Nevada (PRWEB) December 05, 2012
Lexi Maxxwell, the pseudonym for a copywriter with a pen as nasty as her mind, has finally published her long anticipated debut novel, Bitten. After being released on Friday, November 30th, and made free for two days as a giant thank you to devoted fans who have supported her all year, the book shot to the top of the erotica charts, landing at #1 on Free Erotica, while also cracking Amazon's Top 100 Free overall.
Though Lexi has been writing marketing copy for years, and fiction in the closet, it wasn't until late last year when she saw the overwhelming success of many self-published authors and wanted to throw her hat into the ring.
"I couldn't believe it," Maxxwell said. "I'd been writing bulletproof marketing copy for years, and knew how to keep readers on the page. Every copywriter worth his ink knows that great copy knows how to tell a story. I wanted to take the stories I knew how to tell, and blend it with the stories I love to read – unapologetic smut written to get me tingly all over – and try my hand at the publishing game."
Lexi started publishing her unique brand of brash erotica in early January of this year, and quickly amassed a fiercely devoted following. Fans love her short stories, and though she publishes each week – with each new release quickly rising to the top of the charts – her readers are always hungry for more.
Lexi usually writes short stories since they're the easiest to slip into an otherwise hectic schedule. Writing copy is still her 9-5, so anything more than "a quickie" was difficult to juggle. Her first full length book faced two delays.
"I've been promising a full novel since late spring, and it took me all summer to write, then all fall to edit and polish, but I didn't want to rush the project and still had to juggle my normal day job, plus the short story schedule I've promised to fans."
According to early readers and downloads, Bitten was well worth the wait.
Despite boasting nearly 55,000 words and only coming out on Friday, eager readers tore through the pages. By Monday the book already had 13 reviews, all glowing.
"It's truly gratifying. Of course I was nervous. There's just so much more to juggle with a novel than a short, I'm thrilled to know my readers want more."
Lexi's loyal readers, and new ones are all begging for a sequel, which Ms. Maxxwell says she's already started. Bitten was planned as a trilogy.
The product description for Bitten states:
WARNING: This is an erotic novel with graphic depictions of sex that make "Fifty Shades" look like "Twilight." You have been warned :)
BITTEN: FIRST BLOOD - The Erotic Vampire Series Begins
EMMA was trying to move on, and finally put the pieces of her life back together after the death of Henry, the only man she ever loved.
She thought she was doing fine.
Until…
She sees him in a photograph, staring straight at her.
Can it be him? Or is she losing her mind?
HENRY has spent the past year living in shadows, a vampire, cursed to be without the woman he loves, or the life he once lived.
Yet, fate keeps pushing him back to Emma.
To be with her, could mean her destruction.
To be without her, could be his.
Nothing is ever the same once you've been Bitten.
Bitten is available on Amazon now for $4.99.