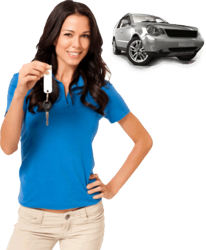 Greenville, SC (PRWEB) December 05, 2012
Everyone needs a new car at one point or another, for one reason or another. Those with tons of money and great credit, find the car hunting process a dream. They can simply walk into any dealership they want, pick out the vehicle of their choice, pay cash, and drive off in their fully redeemed new car. However, most people are on a budget and even more people might have a few financial hiccups in their past. The new car dream can quickly dissipate as these obstacles begin to get in the way. That "easy" narrow path to new vehicle ownership becomes beyond reach.
The above story is no longer a true case, with the inception of Valley Auto Loans (http://valleyautoloans.com)! Valley Auto Loans is not only willing to accept those with bad credit or no credit but now also has something none of its competitors offer. They are now accepting 100% of potential customers who apply for a loan.
That's right; 100%.
This means for anyone who has not had the best financial history in the world, there is no need to worry. No longer do people have to subject themselves to the high interest shark loans from unscrupulous businesses that plague people with a bad credit history. Borrowers will be able to do business with a reputable, fair and structured business that has a history of fair dealings with clients.
Even if one is in the market for a new car with no credit at all, the expert financial associates at Valley Auto Loans will be able to help. Any applicant will be accepted without having to go through the bureaucracy of the major banks: going through job and residential histories, scrutinizing school records or bothering work associates for recommendations.
The best part of all is that Valley Auto Loans is ready to have anyone in a new car today from the comfort of their homes. Anyone can visit the website, submit an application and be approved within minutes.
About Valley Auto Loans
Valley Auto loans.com is the leading auto and cars finance provider in USA fully dedicated to help its customers acquire national car and auto financing. They design and develop customized no credit auto and car loans, bad credit auto and car loans, and good credit auto and car loans. Voted the best for "Quality Customer Service; Best National Auto Loans Service" by thousands of people, their finance experts focus in providing its customers information and various tools available for different auto loan offers, help them to choose the best that fits their budget as well as the related eligibility guidelines in detail.