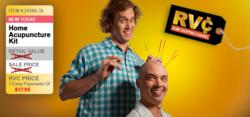 "I'm excited to be able to do comedy the way it should be done" said comedian, T.J. Miller
Culver City, CA (PRWEB) December 05, 2012
Emmy Award-winning Fourth Wall Studios has teamed up with next-generation comedians T.J. Miller and Nick Vatterott to release its next new RIDES.tv comedy series "RVC". The six-episode series follows these two co-hosts of RVC, a struggling home shopping network, as they attempt to try and increase the show's ratings – and fail. The first of six episodes is now playing for free at RIDES.tv.
"RVC" is a hilarious comedy series about the second lowest rated shopping network in the country. On-air, home shopping hosts Terry "Tey Jey" Jey (T.J. Miller, She's Out of My League, Chelsea Lately, Comedy Central's Mash Up, Conan) and Bob "The Blob" Dobbleson (Nick Vatterott, Fallon, Conan, Comedy Central's Mash Up and The Half Hour) push everything from ice-cream strainers to roller skate training wheels. Off-air, they get pushed around by everyone from rival shopping channels to one-eyed lawyers. The two co-hosts are joined by RVC building owner Jubie Bloon (Charlotte Newhouse, Comedy Central's Mash Up, Puss in Boots: The Three Diablos, Community), master salesman Danny Beaker "The Black Leprechaun" (Brandon Johnson, Comedy Central's Mash Up, Treme, Happy Endings) and ex-bible salesman and RVC head honcho Terry Hatch (Ron Lynch, Tim & Eric's Billion Dollar Movie, Happy Endings, The Sarah Silverman Program). Each episode also features different comedic guest stars, from Bobby Lee (MadTV, Family Guy, Pineapple Express) playing a potential business partner, to Ray William Johnson (Equals Three) playing one of RVC's biggest competitors, plus products you can live without - all on one low channel.
"RVC" leverages cutting-edge technology of the RIDES.tv multiscreen entertainment platform and offers an experience that brings the comedy to life. The audiences' cell phones become an interactive prop, making them a part of the home shopping experience. Video synchronizes with phone calls, emails, text messages and a new multi-choice video selector delivers hilarious bonus content to viewers. Dial the call-in numbers for even more funny stuff.
"I'm excited to be able to do comedy the way it should be done," said comedian, T.J. Miller, "On the internet with a web interface that interacts with your mobile devices (only if you want it to). The RIDES.tv platform and technology makes this behind-the-scenes series of the second lowest-rated home shopping network that much more rich in narrative, story, and weird noises (or bleeding eyes). It's an exciting partnership!"
T.J. Miller is one of the most sought-after young comedians and actors in the comedy world. He has been named one of Variety's "Top 10 Comics to Watch," as well as one of Entertainment Weekly's "Next Big Things in Comedy" and featured on Comedy Central's "Hot List". Recently, Miller hosted Comedy Central's "Mash-Up," a unique new half-hour series mixing stand-up and sketch featuring comedians like, Reggie Watts Pete Holmes and Nick Vatterott. He has a popular podcast on nerdist.com, "Cashing in with T.J. Miller," and has been seen in a number of major studio films, including Rock Of Ages, Our Idiot Brother, Gulliver's Travels, the dramatic thriller Unstoppable, the blockbuster hit Cloverfield, and She's Out Of My League. He was also the voice of 'Tuffnut' in Dreamworks' Oscar-nominated How To Train Your Dragon and has won rave reviews in 2010 and at the 2011 Sundance Film Festival for I'm Having A Difficult Time Killing My Parents, which he wrote and starred in. Miller will soon be seen starring in the upcoming Fox comedy series "The Goodwin Games" and is currently crisscrossing the country performing his critically acclaimed stand-up act.
"T.J. Miller is someone that we've always wanted to work with," said Fourth Wall Studios' CEO Jim Stewartson. "His brand of humor is perfect for our audience, and he was really able to stretch the limits of the RIDES.tv platform to turn 'RVC' into a new kind of show for us."
Viewers can access all of Fourth Wall Studios' content including "RVC" for free at RIDES.tv. Like RIDES on Facebook, follow RIDES on Twitter or add to your circles on Google+.
ABOUT FOURTH WALL STUDIOS
Fourth Wall Studios develops, distributes and markets content that crosses the traditional barrier between audience and onscreen action, resulting in entertainment experiences that are more connected, immersive and real. Founded in 2007 by three award-winning, next-generation storytellers, Jim Stewartson, Elan Lee and Sean Stewart, the venture-backed, Culver City, CA based company develops a wide range of interactive entertainment properties designed for RIDES.tv(sm), their proprietary transmedia entertainment platform. RIDES are immersive, narrative experiences that deliver an unfolding story across multiple screens via web browsers, smartphones and tablets.
Their first major series for RIDES, "Dirty Work", recently won a Primetime Emmy® Award for Outstanding Creative Achievement in Interactive Media: Original Interactive Television Programming.