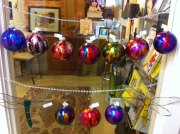 Wake Forest, NC (PRWEB) December 06, 2012
The Cotton Company is proud to showcase a month of art by our Resident Artists. December 14th is the final artist reception for our 2012 Featured Artist calendar. Each holiday season we showcase our Resident Artists who are comprised of local artists committed to the local art community. Each second Friday, The Cotton Company invites the public to enjoy refreshments in The Gallery and mingle with local artists and friends for Art After Hours 5:30-9pm.
December opens the door for Dick Larsen, Doreen Tewksbury, Boni Arendt, and Jane Steelman to showcase their latest works and with such a variety of artists this promises to be our biggest show yet! Look for Dick's famous dog portraits, Doreen's beautiful encaustic and mixed media, Boni's acrylic paintings and Jane's stained glass. This month especially for the holidays each artist has taken an effort to create hand painted ornaments in addition to their hanging works to enhance the holiday spirit. During the artist reception, enjoy shopping our trees that have been decorated with these unique ornaments while getting to know our new house red wine as voted upon by customers.
The Cotton Company is a boutique marketplace in the heart of Wake Forest's Historic Downtown District. Enjoy shopping over 50 different businesses and find unique handcrafted items throughout the store without sacrificing the some of the hottest brand names on the market.