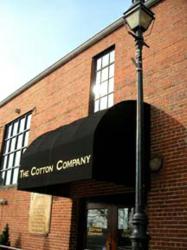 Wake Forest, NC (PRWEB) December 05, 2012
The Cotton Company is always striving to stay on the verge of current business trends and is very selective when considering any new addition to the vendor family that makes up our Boutique Marketplace shopping destination. The newest edition is totally a unique outlet for a very desirable product. The Cotton Company is offering a start up location for another great business venture and true to our mission, the marketplace will provide a friendly and supportive environment for this local coffee distributor.
Bean Therapy, LLC is the next best thing in premium fresh roasted coffee. Offering more than 140 varieties of coffee and 100 loose leaf teas, shoppers can truly find some Bean Therapy to meet the need for caffeine intake or find a uniquely flavored variety to enhance a morning routine. Bean Therapy will be a local outlet for coffee and tea lovers and will also offer online sales of fresh roasted and locally flavored beans. Coffee is roasted daily for maximum freshness and special orders will be available within one business day. All internet orders will be shipped within 24 hours offering the best possible service while supporting a local small business.
The Cotton Company is the proud host of a beautiful display of coffee varieties and purchasing options will range from whole beans by the pound to sample packages of ground coffee. Come by and browse this incredible selection and enjoy following the "flavor of the week" offerings and seasonal lines. Wake Forest is in for a real treat as this company develops a line of intoxicating flavored coffees and teas.
The Cotton Company is a boutique marketplace in the heart of Wake Forest's Historic Downtown District. Enjoy shopping over 50 different businesses and find unique handcrafted items throughout the store without sacrificing the some of the hottest brand names on the market.