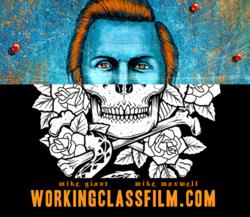 A visually driven film, that gives us a peek into the lives, creative process, and friendship of two artists.
San Diego, California (PRWEB) December 12, 2012
Working Class is an award winning film that tells the tale of underground artists Mike Giant and Mike Maxwell and their decade long friendship that started with a tattoo. Loosely based on "A Tale of Two Cities" the story is told by cutting back and forth between the neighborhoods of San Francisco and San Diego as we learn how their city shapes their art. Directed by Jeff Durkin and produced by his film company Breadtruck films, the film is the first of 2 feature documentaries that look at street art and it's place in world.
The film is a clever juxtaposition of San Francisco skateboard and tattoo illustrator Mike Giant (called "one of the illest artists to touch a sharpie") and San Diego self taught-painter Mike Maxwell (famous for his turn of the century stone blue portraits). The director gets these good friends talking about art, love, politics and Mexican food as they walk through the neighborhoods of their city. The music follows suit with songs from folk country band The Silent Comedy and turntablisum by the Fog City Dee-jays. Working class has won the grand prize and audience award at the Oceanside film festival 2012.
Director Jeff Durkin (a former architect) was interested in looking at how the different cities would influence the artist's and shape the work they produce. Jeff envisioned the project after a conversation about the differences between northern and southern California culture which became the point of departure for the film. In an effort to add a new twist to the artist documentary genre- the location of where the artist's live is just as important as the art the produce. But at its heart, Jeff calls the film a "buddy story about two friends and all the things that make them alike".
The film is rare in the fact that it profiles two people equally throughout its 75 min running time. A double biography that bounces back and forth between the two Mikes' family, religion and political views, as well as the importance in which one's artistic freedom plays in defining the true meaning of being American in an unpredictable way. The music follows suit with songs from folk country band The Silent Comedy and turntablisum by the Fog City Dee-jays.
The trailer can be viewed as well as DVD's & digital download's can be purchased at http://www.workingclassfilm.com.