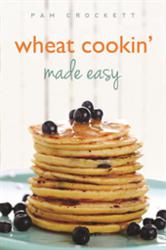 "It all started in the summer of 1999 when my husband found a fantastic buy on some organic hard red wheat from a farmer in Idaho. The only problem was, we had to buy 10,000 pounds of the stuff....What do I do with all this wheat?" Pam Crockett
Salt Lake City, UT (PRWEB) December 05, 2012
Finding 10,000 pounds of wheat delivered to her doorstep, cooking expert, Pam Crockett, knew she had to learn how to use it. After cooking literally thousands of dishes over many years, Pam become not only an expert on the whole wheat kernel, its history and its nutritional benefit, but she had also become a grain gourmet. Now, with more than 250 recipes, Pam shares in Wheat Cookin' Made Easy (Familius, digital $9.99) how to create the best, the most nutritious, the most delicious, and, of course, the easiest and quickest recipes available for those interested in cooking with whole grain wheat.
Wheat Cookin' Made Easy includes the history of what has become the bread of life as well recipes for breads and biscuits, recipes best suited for bread machines, breakfasts, crackers and pastas, desserts, sourdough options, main dishes, muffins and sweet breads, soups and salads, and recipes for kids. Wheat Cookin' Made Easy is the most comprehensive cookbook written for the wheat connoisseur and is a counterpoint to current trend to malign what is and has been literally the bread of life.
Familius is a publishing company focused on helping families be happy through publishing content for marriage, parenting, family fun, wellness, education, and children's.