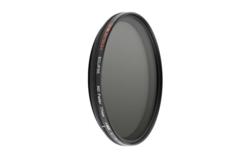 The best ND Fader I have ever used. It's incredibly sharp and the colours are so good I don't need to compensate for colour issues in post
(PRWEB) December 06, 2012
This variable neutral density filter enables photographers and videographers to easily control exposure in a 2 to 8 stop range by simply rotating the filter.
Traditionally, the end user would have to buy a range of fixed ND filters to achieve the degree of exposure flexibility offered by the new Eclipse ND Fader.
This not only saves the user money, it also saves space in the camera bag.
"It's the only ND Filter you will ever need" says Mark Blaker from Genus.
The filter is made using a new laser based method that ensures superior colour fidelity and sharpness when compared to competing products.
Blaker from Genus goes on to say:
"The Eclipse ND Fader has been field tested by a select group of elite photographers and videographers. The response has been extremely positive. Many of those people would have previously shunned the use of variable ND filters based on inferior performance from many other ND Faders on the market."
Genustech Eclipse ND Fader beta testers have been astounded by the lack of colour cast and the sharpness of the filter. They liken it's performance to much more expensive filters costing triple the price of the Eclipse.
Phil Arntz, Amsterdam based filmmaker who used the Eclipse on his stunning film "Terra Australis" has stated:
"The best ND Fader I have ever used. It's incredibly sharp and the colours are so good I don't need to compensate for colour issues in post"
Here is a link to Phil's film Terra Australis showcasing the stunning images he produced with the Eclipse ND Fader
Terra Australis by Phil Arntz
Phil Arntz also did a review of the Eclipse ND Fader that can be found here
Eclipse ND Fader Review by Phil Arntz
Australian filmmaker Clinton Harn also did a video that can be found here
Eclipse ND Fader video by Clinton Harn
The wider front element minimises vignetting when using wider lenses, and the filter is available in the following sizes
52 mm 
58 mm
62 mm
67 mm
72 mm
82 mm.  
For more information and high res photos for publication
Contact Mark Blaker at Genus
About Genus
Genus markets products under the Genustech brand.
Genus creates award winning and innovative camera products and tools for the filmmakers and videographers and photographers. Our Genustech range of camera accessories are designed and engineered to exacting standards. Our products are are extensively field tested by video and photographic professionals the most demanding environments to ensure you have the best tools. Our focus is to make innovative camera and production tools at reasonable and affordable prices.
Genus limited
15th Floor,
Yoo Hoo Tower,
38-42 Kwai Fung Crescent,
Kwai Chung, N.T.
Hong Kong