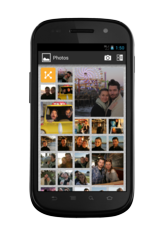 "NeroKwik addresses the three biggest hurdles people have when it comes to sharing photos with mobile devices," said Nero Chief Product Officer Martin Stein.
Glendale, CA (PRWEB) December 05, 2012
Nero, the global multimedia software publisher, has re-imagined mobile photo sharing with its new NeroKwik service – a simple, smart and social way to see, share and get feedback on your photos. The free NeroKwik Android app is available now on Google Play.
"NeroKwik addresses the three biggest hurdles people have when it comes to sharing photos with mobile devices," said Nero Chief Product Officer Martin Stein. "First, you want the right photo available in the right moment. So you really need instant access to all your photos, even if they are on your PC, on Facebook or another mobile device. Then, if you have thousands of photos available, you need a fast and easy way to find the ones you want. And finally, the joy of sharing photos is seeing the feedback from your friends and family. NeroKwik makes that a better experience."
Simple
NeroKwik connects all the photos users have spread across their mobile devices, PCs, and online social networks. Rather than upload, sync or move photos to a centralized cloud storage, NeroKwik simply connects mobile devices and services through the cloud.
"That's what makes NeroKwik so fast," Stein explained. "You can take a photo with your smartphone and it's immediately available on your other devices, without having to do anything else."
Smart
NeroKwik is visual and touch-based. The NeroKwik Tapestry shows photos in a timeline, with the most important ones larger. This helps users quickly sift through potentially thousands of photos without getting overwhelmed.
Social
NeroKwik automatically builds a Tapestry by ranking the social interaction of shared photos. Tapestries can be emailed, texted or posted to Facebook. Unlike static photo albums, Tapestries can continually evolve based on feedback and interaction from others. For example, when someone likes a photo in a shared Tapestry, NeroKwik visually reflects the interaction by making the photo more prominent relative to the others around it.
"NeroKwik boosts your social capital by allowing you to share memories securely and privately with the people you trust," Stein said. "The instant and visual feedback you get from sharing Tapestries also helps to deepen your social bonds."
Availability
Currently, NeroKwik users can connect photos from any two mobile devices running Android v4 or higher, as well as photos they have on Facebook.
NeroKwik will be available for iOS and WinRT devices in early 2013, along with support for more online social networks and popular cloud storage services. It will also be available in non-English languages.
A premium version, also coming soon in early 2013, will allow an unlimited number of mobile devices and PCs to be connected. Premium users will be able to share video clips, as well.
About Nero
Nero creates software that helps consumers around the world simply enjoy their videos, photos and music. Its NeroKwik service gives consumers a simple, smart and social way to share photos across mobile devices, cloud storage services and online social networks. Nero has offices in Glendale, Calif., USA; Karlsbad, Germany; Yokohama, Japan; and Hangzhou, China.
# # #
Nero and its product names are trademarks or registered trademarks of Nero AG. Other product and brand names may be trademarks or registered trademarks of their respective owners and do not imply affiliation with, sponsorship or endorsement by owners. © 2012 Nero. All rights reserved.