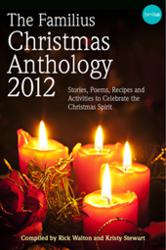 Salt Lake City, UT (PRWEB) December 06, 2012
Christmas is a time for family and there's no better way of helping your family enjoy the Christmas spirit than by taking time to explore nostalgic, feel-good stories, poetry, delicious recipes and fun activities. The Familius Christmas Anthology 2012(Familius, digital $4.99) is filled with stories, poems, recipes, and activities to make Christmas time enjoyable. The stories include such favorites as the "The Gift of Magi" by O'Henry to the moving "The Child Who Had Everything But. . ." by John Kendrick Bangs. The anthology also includes favorite poems like "Long Ago" by Christina Rossetti and, of course, "God Rest You Merry, Gentlemen" among many others. And delicious family favorite recipes provide an invitation to spend time at the family table enjoying Spiced Sugar Cookie Truffles or a simple pot of White Hot Chocolate. The anthology also includes Christmas holiday family activities like building Graham Cracker Cottages or playing Jack Frost Tag. This book is a wonderful addition to your holiday collection.
Familius is a publishing company focused on helping families be happy through publishing content for marriage, parenting, family fun, wellness, education, and children's.