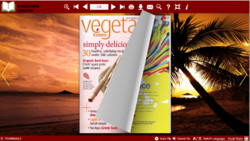 (PRWEB) December 05, 2012
On Dec. 2, eMagazineCreator.com, a well-known software provider, released its new digital magazine creator, PDF to Flash Magazine Pro, whose most attractive advantage is that it can make a powerful flash effect, and improve the effect obviously, from single dull to elegant and upscale.
Compared with other suppliers' products, PDF to Flash Magazine Pro can embed rich hyperlinks, images, flash videos, music and more multimedia objects, and convert PDF files to a flash Flipbook. In addition, customers can change the built-in setting features such as background's color and image, control button, navigation bar, and book page for better effect.
"This product is especially designed to meet customers' continuously increasing requirements. It is absolutely a powerful flash page flipping maker to create much more stunning and special digital magazines." Said, Kitty Ouyang, CEO of eMagazineCreator.com.
Kitty Ouyang is so confident in their new magazine creator, and explained, "PDF to Flash Magazine Pro is especially suitable for editors, publishers, and other Flash lovers. It lets users quickly review the motion and timing in an animation. This is must faster than actually rendering the animation. We believe we can bring more surprise and convenience to our customers."
About eMagazineCreator.com
eMagazineCreator.com (eMagazineCreator Inc.) is an innovative software company focused on high-end rich media software development for global markets. The company has been well-known for its low-cost and handy programs for editors and publishers to produce professional page flipping books.
More information about PDF to Flash Magazine Pro can be found at: http://www.emagazinecreator.com/flipbook-creator-pro/