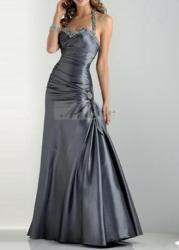 (PRWEB) December 05, 2012
On Dec. 3, Merle Dress, a leading wedding dress online shop, was pleased to announce its graduation dresses 2013 series, which includes styles varying from strapless to trendy one shoulder, asymmetrical hemlines to baby doll dresses, fitted short dresses to long graduation gowns.
"These dresses will surely make you the star of the night. Walk with grace as you exhibit the subtle elegance of dress along with its sweetheart neckline and bodice. The dress is finished off with a tailored pencil skirt that will surely make you look polished and chic. The lace design with criss cross bands and ruched detailing add a feminine, yet seductive touch to the whole look." Said, Donnie Terry, CEO of the company.
Donnie Terry is very confident in their new products, and continued, "If you are looking for graduation dresses or cheap formal dresses, or wish to buy a graduation dress for your special night, you're sure to find a dress that will light up the night at our website of MerleDress.com"
Dresses for Graduation can either be formal or casual, depending on a girl's preference and the celebration she is attending. Girls should plan to buy their graduation dresses ahead of time.Merle Dress's special selection of graduation dresses are sure to please everyone in 2013.
About Merle Dress
MerleDress.com is the leading supplier of wedding dresses, prom dresses, cheap evening gowns, and wedding dress accessories from China. Merle Dress is famous for its outstanding quality in fabric, materials, and fit without the inconvenience and costs of traditional bridal boutiques and retailers.
For more about Merle Dress, please visit: http://www.merledress.com/