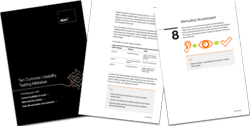 (PRWEB UK) 11 December 2012
Box UK's new white paper, "Ten Common Usability Testing Mistakes", provides readers with a number of simple ways to improve their own testing practices for increased value and returns. With a wealth of case studies, data and industry research, the new report provides insight into the most common pitfalls encountered when conducting user testing along with clear advice about how to avoid them.
Offering practical advice for anyone considering a new web project, the report draws on years of experience running laboratory, remote and guerilla usability testing projects across multiple platforms to detail how best to conduct usability testing in a number of different situations, from reviewing an underperforming site to undertaking a comprehensive navigation and structure update.
To get exclusive early access to future Box UK white papers, sign up to the newsletter. Box UK's previously released white papers are also available to download via the website:
Six Things You Need to Know About Your Users
Five Signs Your Web Project Needs Agile
Build Trust & Drive Value: The Partnership Approach
About Box UK
Box UK is a team of thought leaders, consultants and application developers engaged in the rapid and precise design and delivery of high-performance software products and services for progressive enterprises worldwide.
Established in 1998, Box UK's client list includes BBC, LAN Airlines, Investec Asset Management, the National Gallery, Chartered Institute for IT, EDF Energy and Severn Trent Plc.