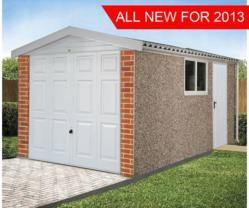 (PRWEB UK) 6 December 2012
Lidget Compton is pleased to announce the release of their brand new Deluxe range of maintenance free concrete garages in time for 2013.
Established over 30 years ago, Lidget Compton is a trusted name when it comes to building garages. Their new Deluxe range marks an exciting step forward for the company into providing premium class products.
The Deluxe models provide extra stability by eradicating materials traditionally used to build garages, such as timber. Instead, Lidget Compton have used the ultra-resistant PVCu to create low maintenance and longer lasting fittings.
This update means that Deluxe garage owners will no longer have to check for rot or worry about the climate's effect on their new building, as PVCu is made to endure the worst of the elements.
The garages are also fitted with PVCu fascias, vergeboards, guttering and windows, allowing them to be kept in pristine condition by simply wiping them down.
The new Deluxe range is available for both the Apex and Pent style garages which Lidget Compton produce, so there is plenty of choice for those looking to own something customised to fit specific tastes.
The building company has stated that their luxury garages will come fitted with up and over Georgian style doors and real brick front posts, giving them an instant aesthetic edge over other garages and adding ever-important value to any home. The premium models are also Lidget Compton's safest yet, each fitted with an advanced 4-point locking system for added security.
A spokesperson from Lidget Compton commented on the new Deluxe range: "We are proud to announce the launch of our new Deluxe garage range just in time for the New Year. Lidget Compton's garages are constructed with some of thickest and robust materials available and the new Deluxe range presents people with the chance to own a garage that's not only built to last, but can also add to the kerb appeal of any home."
To find out more about Lidget Compton, and their new Deluxe range, please visit: http://www.lidget.co.uk
About Lidget Compton:
Lidget Concrete Ltd recently acquired the Compton Buildings name to create a new leader in the concrete garage market. With agents based all over the UK, Lidget Compton use their wealth of experience in the garage industry to bring you the best quality long-lasting concrete garages.