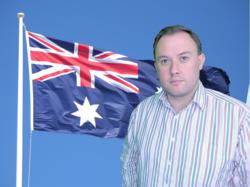 With the continued support of UKTI we are now actively seeking distributors in many other parts of the globe
Dudley, West Midlands (PRWEB UK) 6 December 2012
Hot on the heels of the UK Trade & Investment (UKTI) Export Week, Global Photo Booths Ltd the Midlands based portable photo booth manufacturing and sales company has appointed its first overseas distributor.
The deal comes on the back of a series of meetings held recently in Australia by the CEO of Global Photo Booths, with a number of potential distributors, the logistics of which were arranged and sponsored by UKTI.
Commenting on the appointment of their first official overseas distributor Chris Wood, Technical Director, Global Photo Booths said; "We are extremely excited by the opportunities this appointment provides us to expand into and across Australia. Having received a large number of enquiries from the region we were delighted when UKTI agreed to sponsor our recent trip over to meet with potential distributors. If it had not been without the support we received from them I am certain we would not be in a position to make this announcement for many months to come"
The new Australian photo booth distributor is Photobooth4U based in Magill, South Australia and headed up by ex-pat Tris Hewitt, who following the sale of his successful manufacturing and import businesses in the UK, moved to Australia 2 Years ago with his Australian born wife.
Talking about their appointment Tris said; "We are delighted to have agreed the deal with Chris and his team to distribute their range of photo booths throughout Australia. Photo booth hire is expanding in a big way in this part of the world and having looked at various different booth systems it was clear that the design and quality of Globals' booths and software made them the obvious choice"
Commenting on his future plans for expansion Chris added "With the continued support of UKTI we are now actively seeking photo booth distributors in many other parts of the globe and had a number of very positive conversations at the recent export event in Birmingham, which we are now actively following up".
Maggie Neale, Head of UKTI in the Black Country said "Global Photo Booths Limited has an excellent product and a genuine commitment to developing internationally. This combined with the strategic planning, research and support available via UKTI has proved to be a successful formula. The management team's willingness to embrace working practices associated with new markets will ensure sustained growth in the future. I look forward to working with the team and congratulating them on their success for a long time to come!"
Ends
For further editorial information please contact Rob Mobberley or Chris Wood on 01384 77703. Email rob(at)photobooth(dot)co(dot)uk or chris(at)photobooth(dot)co(dot)uk
Note to Editors:
Global Photo Booths Ltd is the UKs' No1 Manufacturer & Supplier of Mobile Photo Booths for Hire
Photo Booths are rapidly becoming the must have item at weddings, parties, proms clubs & corporate events
Global Photo Booths Ltd have supplied booths from the UK direct to customers all across the globe including Australia, Western Europe & Kazakhstan
Photobooth.co.uk is the only Photo Booth company in the UK with a genuine ex-movie New York Taxi Cab Photo Booth.
http://www.photobooth.co.uk