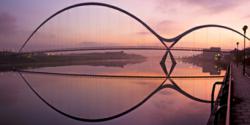 Our report shows some impressive figures for Stockton-on-Tees, suggesting resilience in the face of difficult economic conditions.
Stockton-on-
Tees:UK (PRWEB UK) 11 December 2012 -- A new report by Duport.co.uk reveals a record-breaking number of new company formations in Tees during the third quarter of the year.
Between July and September there were 173 new companies registered - more than any other third quarter on record for the town. This figure also represents a 10% rise on the same period in 2011.
Since the 1980s, the traditional heavy industries that the local economy was built on have declined, giving way to growth in the services sector. The current boom in new companies could be due to recently-announced plans to transform the town centre with investment of around £38m.
The investment programme aims to attract more retailers, businesses and shoppers by opening up new spaces and links to the River Tees. Plans include the introduction of new shops and restaurants around a large plaza, plus series of light installations which will stretch along the waterfront.
Managing Director of Duport.co.uk, Peter Valaitis said:
"Our report shows some impressive figures for Tees, suggesting resilience in the face of difficult economic conditions."
"With such exciting developments planned for the town centre, it's no surprise that a record number of new businesses have chosen to set up there in the last few months."
The Duport Business Confidence Report provides an economic overview of Tees, and includes both current and historical data, as well as data for the UK as whole. More information can be found at http://www.duport.co.uk/stocktonontees.
Duport Business Confidence Reports are generated and released by Duport Associates Ltd. The data contained in these reports is assimilated and analysed by Duport using public record data from sources including Companies House, Office for National Statistics and Ordnance Survey. Duport Associates Ltd is a leading UK company formation agent, established in 1997 and registering around 10,000 new companies each year through its Companies House approved software.