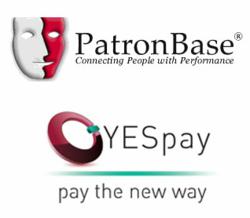 London, UK (PRWEB UK) 5 December 2012
With YESpay's EasyV-Retail and EasyV-Internet, Patron Base has brought about a positive change for several customers including Rich Mix Cultural Foundation, Citizens Theatre Limited, Birmingham Museum and Hackney Empire Theatre. So far, around 100 EPOS tills at these organizations are already deployed with YESpay's solution. Progressing with speed, the company is helping more art organizations attract diverse crowds with integrated ticketing solutions for customer present and online environments.
YESpay's state-of-the-art solutions give theatre a new beat
EasyV-Retail helps theatres and other art organizations to offer a fast and faultless service to their customers while effectively serving them in less time. This service fulfils end-to-end authorisation requests in less than 3-5 seconds making debit or credit card payment checkout on EPOS quick and hassle-free.
Patron Base has also integrated EasyV-Internet to expand its customers' payment service propositions by providing an e-commerce payment platform. EasyV-Internet is a trusted and affordable e-payments service that enables merchants to securely process Internet payments through websites. EMBOSS uses the highest industry standard security supporting address verification (AVS) and card security code (CVV) along with 128-bit Secure Sockets Layer (SSL) encryption to protect cardholder data being transmitted over the Internet.
"Patron Base is a key multi-channel partner of YESpay. By using EMBOSS, they have been able to offer a single payment service for both card present and card-not-present environments that in turn makes overall transaction reconciliation quick and accurate for their customers,' comments Rohit Patni, EVP Sales and Marketing, YESpay International.
Both EasyV-Internet and EasyV-Retail support credit and debit card tokenization for free. They are linked to a fully managed EMBOSS payment service which is a multi-acquirer and PCI DSS (Level 1) pre-accredited card-present and card-not-present transaction switch used in retail, Internet and several other environments. To add to the advantages, these services are offered with no infrastructure costs and priced at low monthly fees.
Making use of highly cost effective payment services by YESpay, Patron Base is paving way for many more positive customer experiences at cultural organizations.
About YESpay International Limited
YESpay International Ltd., a global card payments service company, provides highly secure Internet, EMV Chip & PIN, contactless and gift card payment processing services to independent and multi-chain merchants. Through EMBOSS, the YESpay Managed Payment Service, merchants can quickly accept integrated card payments within EPOS, kiosks, hospitality and e-commerce systems with minimal capital investment and low on-going services costs. EMBOSS is an on-line IP-based payment processing service that has been generically pre-accredited by major Card Acquirers in Europe and North America (including First Data Merchant Service (FDMS), Chase Paymentech, Barclaycard Business, HSBC, HBOS, Lloyds Cardnet, Streamline, Ulster Bank, Elavon, PBS, Amex and Diners). In addition, the YESpay EMBOSS service is fully end-to-end certified to Payment Card Industry Data Security Standards (PCI DSS) Level 1 as mandated by Visa and MasterCard. The YESpay EasyV-Suite of card payment products is innovative and cost-effective for EPOS, Kiosk, Hospitality, Mobile and Internet environments. With the YESpay EMBOSS card payment service, merchants can perform card payments in both card-present and card-not-present environments.
Contact details:
UK Headquarters: YESpay International Ltd, Checknet House, 153 East Barnet Road, Barnet, EN4 8QZ, UK | Tel: +44 (0)203 006 3790
Canada Office: YESpay International Ltd, 116 Spadina Avenue, Suite 201, Toronto, Ontario, M5V 2K6, Canada |Tel: +1 855-YES-PAY- 1
PR Contact: Nitasha Jain, Marketing Manager, ext. 402, nitasha.jain@yes-pay.com, marketing@yes-pay.com
About PatronBase
PatronBase is a PC Windows based real-time booking system that caters to Graphical Seat Bookings, Flexible Production and Performances, Detailed Patron Information, Wide Variety of Booking Situations, Flexible Venue Seating Design and Comprehensive Reporting. The company also provides additional modules that can be added to provide enhanced functionality. PatronBase is about more than just ticketing – it is a hub that brings all the different people linked with the organisation together in one place. The company has customers throughout the United Kingdom, New Zealand, Australia and Ireland.
Contact Details:
UK & Ireland: First Floor, 16 Pearl Street, CARDIFF, CF24 1HD | Tel: +44 (0) 29 2000 3490
Contact Person: Andrew Thomas, andrew (at) patronbase (dot) co (dot) uk