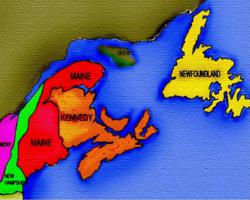 American history has always incorporated expansion. From landing at Plymouth Rock, to the settlement of the west, America embraces a pioneering and expansive mindset
Nova Scotia (PRWEB) December 06, 2012
Today, July 4, 2016, Kennedy and Newfoundland were publicly recognized as the 51st and 52nd states of the United States of America. As well, Maine, New Hampshire, Vermont and New York each had their borders extended to include new territory.
"This is a monumental day in American history" stated President Henderson West at the public celebration being held in Moncton, the new capital of Kennedy. "Today we enter a new era of growth and prosperity. As well, we welcome many new citizens to the United States and trust that their ingenuity and lifestyle will be welcomed and glorified within the entirety of the United States of America".
In "ff21st" the new book by Kenneth Jackson, international expansion is fulfilled through a modern version of land transfers. Land acquisition through purchase is much more preferable than expansion through military means. America had previously benefited through the transfer of American Samoa to Australia. The funds raised from that transaction contributed greatly to reducing the national debt and bringing the USA back to economic stability. With the purchase of eastern Canada, the US gained tremendous natural resources and was able to regain a sound position of competitiveness.
Kenneth Jackson, a political analyst who holds a MBA states, "throughout history, nationalism has rarely delivered a long-term positive outcome. In many instances, it has, in fact, been extremely detrimental and quite often resulted in wars and massive destruction. In the future, nationalism becomes less of a pervasive philosophy. As economic turmoil continues to increase in many parts of the world, citizens everywhere will come to crave stability over sovereignty".
"Further" Jackson adds, "America's history has always incorporated expansion. From the first settlers to arrive on Plymouth Rock, to the settlement of the west, America embraces a pioneering and expansive mindset. There had not been any additional land additions since 1959 when Hawaii and Alaska were officially admitted, so it is plausible for the US to pursue the opportunity for geographic expansion".
About the Author:
Kenneth Jackson earned a Bachelor of Arts degree in political science and a MBA in international management from SMU. He is a twenty-year veteran of the advertising and marketing industries and has worked internationally with several of the world`s largest advertising agencies. Jackson has lived in Singapore, Prague and Toronto. An avid hockey goaltender, guitar player and traveler, Jackson is retired and lives in Nova Scotia.