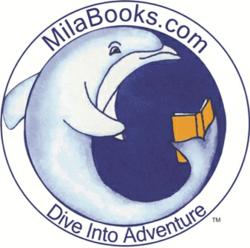 Mila has a real knack for creating strong, sexy female characters
Carle Place, NY (PRWEB) December 07, 2012
Near Miss by author Paul J. Mila, now available through http://www.milabooks.com and http://www.amazon.com features the return of his popular husband and wife diving duo, Terry and Joe Manetta, in a new adventure, along with a cast of unforgettable tropical characters.
In a recent interview Mila explained, "Spending so much time in tropical latitudes, I've been fortunate to meet an array of colorful characters with intriguing backgrounds—fertile ground for a novelist. So of course, several new friends and local amigos have found their way into this story."
In this latest fictional tale, displaced international consultant Dayle Standish heads for the Caribbean, following a losing battle involving corporate intrigue and blackmail. Diving Cozumel's azure waters, Dayle photographs a mysterious encounter inside a deep underwater cave. Soon after, a deadly assassin working for a foreign intelligence service starts targeting Cozumel dive operator Terry Manetta's customers. But Dayle is determined not to become the next victim, keeping one step ahead of a relentless killer pursuing her across the Atlantic and back to the Mexican Caribbean.
Reviewer Karen Sunde, author and playwright, said, "Mila has created his own genre: The Feel-Good Thriller. His white-knuckle tales are spun by friends you don't want to leave."
Mila retained the editing services of Lorraine Fico-White, owner of Magnifico Manuscripts (http://www.magnificomanuscripts.com), to burnish his fourth novel, which is available in both print format and electronically on e-book readers.
Mila, who traded in his corporate suit for a wetsuit, devotes his time to writing, scuba diving around the world, underwater photography, and speaking to groups about the growing need for ocean conservation. Mila's books, videos, and underwater photographs are featured on numerous diving websites and by National Geographic Television. Near Miss is his fourth novel, following three successful dive adventure tales: Dangerous Waters, Whales' Angels, and Fireworks.
In addition to publishing beach-read adventures to entertain both dive enthusiasts and non-diving readers, milabooks.com also publishes a monthly newsletter called the Sea-gram ( http://www.sea-gram.com ) aimed at "ocean lovers, divers, and 'deep-thinkers'."
Paul Mila and his family reside in Carle Place, New York, a small town on Long Island.
For more information, visit http://www.milabooks.com.
###