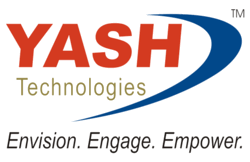 East Moline, IL (PRWEB) December 05, 2012
YASH Technologies, a leading technology services and outsourcing partner for global companies, today announced the opening of a new office in Sydney, Australia. Located at Level 3, 171 Clarence Street, Sydney, NSW 2000, Australia, the new office will be the Asia Pacific headquarters of YASH, offering support and services around SAP® and Microsoft® technologies.
"The YASH office in Sydney allows us to expand our global reach and better support our customers in the Asia Pacific region," said Bala Navuluri, COO, YASH Technologies. "Our new presence in Australia solidifies our strategy to create more partnerships and grow our business in this part of the world."
YASH has strategically placed their new office in Sydney, most well-known as a major financial center, because of its heavy concentration of manufacturing and chemical industries, which supports YASH's extended expertise in the manufacturing and chemical domains. YASH will leverage its strategic partner channel in the region to enhance its go to market capabilities, with a primary focus on SAP and Microsoft services and support.
The Sydney office is the latest addition to YASH's growing operations around the globe. YASH now has twenty offices located on five continents including: Asia Pacific, North America, South America, India, and Europe. For more information please visit http://www.yash.com or email info(at)yash(dot)com.
About YASH Technologies
YASH Technologies focuses on customer success. As a leading technology services and outsourcing partner for medium and large global customers, we leverage technology and our flexible delivery models to drive performance and business value throughout a customer's enterprise. YASH's comprehensive service approach incorporates a holistic view of our customers that extends beyond delivery. This approach integrates enterprise solutions and services, proprietary best practice offerings, strategic application and maintenance outsourcing, as well as consulting and integration services. YASH is a SEI CMMI (Level 3) and an ISO 9001:2008 certified company with U.S. and India headquarters and regional sales and development offices spread across five continents. For more information, please visit http://www.yash.com or email info(at)yash(dot)com.