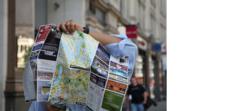 Never carry around large some of cash on your person.
Kent (PRWEB UK) 7 December 2012
• Take out travel insurance that covers emergencies or additional insurance if necessary. It always seems like an expensive option that could be passed up until an unfortunate incident occurs and there are regrets for not taking out the insurance in the first instance.

Map out journeys to minimise checking while on the streets, which makes it obvious of being a tourist and more vulnerable.
Carrying your bag with a strap and wearing it goes across the shoulder and chest is much safer rather than just over the shoulder.
Use bags with zips and flaps rather than fasteners and openings without fasteners. Pickpockets love easy access, so make it very difficult for them by carrying secure bags.
Avoid walking or travelling in the dark; use the daylight for trips.
Avoid wearing exposed jewellery that draws attention to you.
Carry a mobile phone but keep it out of site but on person while on trips.
Update someone frequently of your whereabouts, by text, email or a phone call.
Always try to blend in the surroundings by wearing plain clothes rather than clothes that look like from a different country. Quite often tourists feel the need to wear bright and loud clothing. This draws attention that you are only visiting and makes yourself vulnerable to predators.
If travelling with children, always keep them nearby and never chance it for them to wander off on their own.
If needing a taxi, try to use the recommended ones from your hotel of tourist information centre. Get all this information early in your holiday so it is at hand when needed.
Never carry around large some of cash on your person.
If travelling by car and need to park in a car park-take all the precautions that you would do in your home country and even more. Be aware of people walking near you and that they are not following you. Always have your car keys taken out a little way before reaching the car. When you get into the car, lock the doors immediately.Hanging around the car looking for keys creates opportunities for crime.
If you suspect someone is following you, stop off at the nearest cafe or store. You want to get to a very busy area and ring the police.
If you suspect a vehicle is following you, cross to the other side of the road or turn and walk the opposite direction.
Do not take shortcuts; always keep to busy and well lit areas.
If you like our posting, just drop us a line as we would love to hear from you.
Luggage Superstore's established site is in West Kingsdown, Kent. Their aim is providing competitive prices of the highest quality luggage and top calibre Customer Service for online luggage shopping.
Trina Chee-a-kwai
Luggage Superstore
01474854666
Email Information