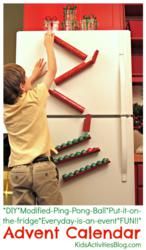 Creative Advent Calendar turns into Engineering Project to Countdown the days until Christmas.
Dallas, Texas (PRWEB) December 07, 2012
The ingenious Ping Pong Ball Advent calendar is one of the most innovative family Christmas craft ideas featured on Kids Activities Blog this holiday season. The Advent calendar is not only fun to make, but transforms into an engineering game that will be played with daily until Christmas, guaranteed.
Making the Advent calendar involves a lot of artistic help from the kids that can turn a bit messy - exactly what kids love. Besides buying Mod Podge sparkle, about 8 magnets, and 25+ ping pong balls (more than 25 balls is recommended since they may be hiding after a few games), other supplies can be found at home such as paper roll tubes and Christmas paper.
Cut the toilet paper tubes and paper towel tubes to make troughs according to the template provided on Kids Activities Blog. Decorate with fancy Christmas paper and hot glue magnets on the back.
Get the kids to help rip green tissue paper, dip it in Mod Podge sparkle, and attach it to the balls. Make one ping pong ball with red tissue for Christmas. After all is dry, let the clever kids find a way to arrange the tubes on the fridge so that the balls fall neatly one by one into the troughs.
The creative Advent calendar turns into an Engineering Project and creates fun filled Christmas memories for years to come.
About Kids Activities Blog
Kids Activities Blog is a website created by two moms (who collectively have 9 children), Rachel Miller and Holly Homer from June Cleaver Nirvana. It is their daily goal to inspire parents and teachers to play with kids. This interactive website publishes simple things to do with kids twice a day. Kids Activities Blog is a great tool for moms and teachers to find kid-friendly activities that create memories and sneak learning into the fun.