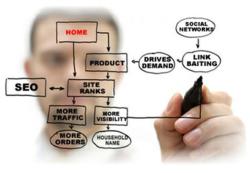 Redding, CA (PRWEB) December 10, 2012
1stLevelBackLinks offers diversified link building packages to hundreds of customers around the world, and looking at thousands of websites being negatively affected by the latest Google Penguin-update, the company has launched a brand new Penguin-revival service.
1stLevelBackLinks.com, taking notice of the demand for Google Penguin-revival, has rolled out a new Penguin-revival service, which is focused on analysing the back-link history of a domain, cleaning up all the incoming junk links to assist in revival of Penguin-hit websites, during the subsequent Google updates.
Take a look at the different link building services offered by 1stLevelBackLinks.com here.
The company thoroughly understands the importance of diversity in link building strategies and importance of a particular kind of in-link coming at a particular point of time.
With over a decade of experience in SEO-field, and in-depth knowledge, the company head Joshua Cabe Johnson explained "You do not want backlinks from SEO packages that offer minimum diversity. You also want to know what types of links hold the greatest weight in the Search Engines at the current time you are purchasing them. The root level domain of an incoming backlink is very important too."
1stLevelBackLinks.com offers different types of link building packages to suit varying requirements. The company recently rolled out two new affordable SEO packages targeting new cyber entrepreneurs, and small business owners who can't afford to allocate a big budget towards SEO campaigns.
CEO of 1stLevelBackLinks went on to explain - "Here at GTS, we have been offering SEO Services to clients worldwide for over 5 years. We have a close circle of "SEO experts" that we are friends with. You can be sure that your hard earned dollar will be worth it. Even if you just take our 5 minute free consultation, you'll walk away with valuable information. Information is so valuable."
GTSLinkBuilding.com, also owned by Joshua Cabe Johnson, has been offering high quality Internet marketing services and SEO consulting to hundreds of customers for over 5 years. The company considers budget constraints and offers the best cost-effective solutions within the budget of their clients.
To give an insight into the top industry practices exercised by 1stLevelBackLinks he mentioned that 1stLevelBackLinks.com practises 100% white-hat SEO methods and all its strategies completely abide by the rules and regulations mentioned by Google, as a result of which none of the websites optimized by 1stLevelBackLinks.com have ever been penalized by Penguin/Panda updates.
1st Level Back Links is also working on building a high-end back-link building solution, which would dynamically cope up with latest Google updates, and assist the users in generate powerful backlinks from most reputed sources in their website's niche, in order to avoid a Penguin penalty in future.
About the Company
1stLevelBackLinks.com is a link building service and SEO consulting company and its associate company, GTSLinkBuilding.com, was founded by Joshua Cabe Johnson back in 2008. The company offers customized link building solutions for different websites and it services range from contextual links, RSS blended links, to micro blog links, press release links and other advanced services.
1stLevelBackLinks.com practises pure white-hat SEO and link building strategies and also specializes in link popularity.
Know more about the company at http://www.1stlevelbacklinks.com