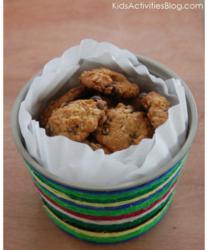 Kid-made gift ideas that will make the holiday season extra special!
Dallas, TX (PRWEB) December 09, 2012
Still thinking about homemade gifts for family members and friends? Delicious Chocolate Chip cookie recipe ideas together with free personalized printable recipe cards, are featured on Kids Activities Blog during the month of December. The yummy Chocolate Chip cookie dough is wrapped in an adorable container handmade by the kids. The three cookie recipe printables, currently featured on Kids Activities Blog, can be personalized and match the homemade recipe.
Simply follow the instructions for the recipe and decorations for the container, and then print out the printable recipe card templates and let the kids help decorate the cards.
Not in a mood for baking gifts? A laundry list of over 100 additional creative kid-made gifts are listed during the month of December on Kids Activities Blog. The homemade gifts include building an indoor swing, sewing a rag doll for the tot, building an outdoor mud kitchen, making homemade soap, creating a Jenga game out of sponges, creating a DIY goop kit, decorating pillow cases, making a bracelet kit, and making fizzling sidewalk paint.
These and a many other ideas are currently featured on Kids Activities Blog. Come get inspired.
About Kids Activities Blog
Kids Activities Blog is a website created by two moms (who collectively have 9 children), Rachel Miller and Holly Homer from June Cleaver Nirvana. It is their daily goal to inspire parents and teachers to play with kids. This interactive website publishes simple things to do with kids twice a day. Kids Activities Blog is a great tool for moms and teachers to find kid-friendly activities that create memories and sneak learning into the fun.