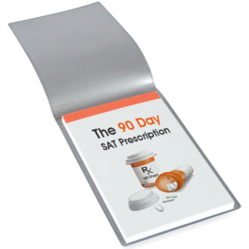 SAT classes don't work. If they did, there wouldn't be so much innovation within the industry. People are still trying to create new solutions because the ones on the market now are a joke.
New York, New York (PRWEB) December 06, 2012
For the first time ever, Anthony-James Green, a renowned SAT tutor from New York City, will be releasing his self-study SAT program to the public.
For decades, SAT classroom courses have been the go-to option for students and parents looking to improve their scores. Because the largest test prep firms with the largest budgets use these classroom courses as their principle source of revenue, their advertising budgets promote a self-fulfilling prophecy: people use classes because they don't know about other options, and their use of these classes fuels the advertising necessary to blot out all other options from the scope of future generations of students.
The problem: these classes don't work. And, according to New York City SAT tutor Anthony-James Green, they never have.
"The popularity of SAT classroom courses relies on one thing: user ignorance," says Green, a one-on-one SAT trainer whose average student improves by more than 380 points. "Parents don't realize two key facts when it comes to SAT prep. The first is that ANY exposure to SAT strategies will produce SOME results in any student. The second is that, among the available options, these classes are next to useless. Parents see these classes as "the thing to do," and hence they pay thousands of dollars for them without researching their other options. This is a pity, because they'd be better off investing in just about any alternative option."
As more research into the science of learning is completed, the results become more glaringly obvious: classroom learning is ineffective. It doesn't promote user engagement, customization, or feedback, the three essential elements of any essential learning program. But it is extremely profitable.
"Everyone who knows anything about education knows that classroom learning is a sham," says Green. "They also know that it's scalable. Throw 20 students in a classroom, charge them each $1,500, and voila! You've made $30,000, and you're paying one teacher an hourly rate a bit above minimum wage. This ludicrous profit margin can be invested right back into advertising, and so the cycle continues. Sure, the product stinks - but if you can outspend all your competitors, people will still buy it."
The problem is that people don't know what results to expect. On average, the typical classroom student improves his or her scores by around 40-70 points. This, according to Green, is "pitiful."
"Parents see their kids go up 40, 50, 60 points and say, "hey, look, it did something." But this level of score improvement is a joke. You could improve your score by 50 points by taking 2 practice tests. Parents should be expecting score improvements in the 3-500 point range, but because they've been hoodwinked by the larger firms, they don't even go seeking that sort of improvement."
Parents and students looking for Green's free guide, "100 Points in 100 Minutes," can download it for free by signing up for his mailing list at his main booking site:
To remedy this problem, Green is in the process of releasing his own program to the public for the very first time. Green's students improve their scores by an average of nearly 400 points, and often improve by as much to 700-800 points, using his methods. Green, who is now booked nearly 18 months in advance for his one-on-one services, was "sick of turning people down - I can't help them, and I can't get paid - a lose-lose situation for everyone involved."
Green's program, called The 90 Day SAT Prescription, is a step-by-step, 90-day program that any student can use to improve his or her scores by hundreds of points. The product, which launches January 3rd, is currently accepting free pre-order sign-ups here:
"I've never been so excited by anything I've done," says Green of his 90 Day Prescription. "This is the first time that anyone has been able to combine the elements of a well-structured learning plan with the necessary element of flexibility. My program tells students EXACTLY what to do each day, every day for 90 days, but what they do depends on THEIR unique needs, strengths, and weaknesses. I help students to analyze their own performance, break down their weaknesses, and isolate the areas they need to focus on most. If the buyers of my program are even half as successful as my personal students, this product will change the entire industry."
The 90 Day SAT Prescription will cost $379.95 once it's launched on January 3rd of 2013, but parents and students can get a free $100 discount code if they sign up for Green's pre-launch list here:
$100 Off the 90 Day SAT Prescription - Free
Green is also guaranteeing his product. Any buyer who "isn't 100% satisfied - whatever that means to him or her" simply needs to send Green's firm an email for a 100% money-back refund. "When people see how well this system works, they're going to try to send me MORE money. The results produced by this launch will change lives. The college scholarships produced by these sorts of score improvements will pay for the product 10X over. At a minimum."
Green has been called New York's best SAT tutor. As the founder of Test Prep Authority, author of four books on the topic of SAT prep, creator of Vivid Vocab, a wildly popular SAT vocabulary software, and co-creator of Every College Question Answered, Green has already made a mark on the SAT prep industry. The launch of the 90 Day SAT Prescription will be his first entry into the "full program" market.
Green lives in downtown Manhattan, where he tutors one-on-one SAT prep full-time when not developing his products and training other tutors.
###