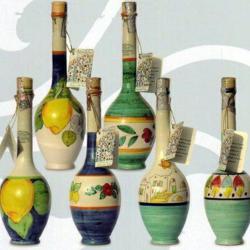 Los Gatos, CA (PRWEB) December 06, 2012
Gioia Italian Art and Products, a distinctive online Italian art and gift boutique, is pleased to announce a holiday special on its unique line of Vietri Amalfi handcrafted and painted bottles. The bottles are decorative art, but are also functional as limoncello makers. Gioia Italian Art and Products partners with Vietri Masters to offer these masterpieces for $80 while supply lasts.
Limoncello is served for a digestivo in Italy. Made from the lemon rinds and combined with alcohol or vodka for 30 days and then combined with sugar water for a marvelous after dinner drink served in frozen glasses. A limoncello is also enjoyable alongside a good cup of Italian coffee or as a refreshing summertime treat.
"These beautiful Limoncello Bottles hand crafted on the Amalfi coast of Vietri, Italy for home decor and for home made limoncello!" said Kathy Winkelman, co-founder of Gioia Company. "These are specially priced for this holiday gift giving fun. Mention SFGATE to redeem this special offer." Or, visit the following link to make a purchase https://gioiacompany.com/webshop/product/vietri-italy-limoncello-bottles/297/242.
Gioia Italian Art And Products also features a selection of Italian jewelry, Venetian masks, stones, and other Italian gift ideas for special occasions. In addition, the shop has numerous holiday-themed gifts, such as linens and wine bottle decor that can add a touch of beauty to any holiday meal. Gift ideas also include a number of fine art pieces ranging from acrylic and oil paintings to fine wood art, and everything is meticulously wrapped with style and care.
About the company:
Gioia Company Italian Art works directly with dedicated Italian Artisans to bring the finest Italian gifts and custom artworks in the Italian Tradition. These Italian Heritage Art pieces make unusual gifts for Italian weddings, birthdays, anniversaries or other special occasions. The unique Italian treasures will remind one of the sights, smells and experiences of Italy over and over again.
Each piece is professionally wrapped and carefully shipped to any destination of choose. The Gioia Italian Gifts Online shopping experience is available at select Italian Festivals, wineries, fine art galleries, and online at http://www.gioiacompany.com.