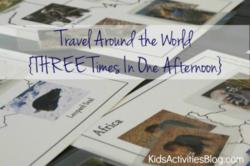 Travel three times around the world in one afternoon with the kids from the comfort of the home.
Dallas, TX (PRWEB) December 14, 2012
Aren't traveling this holiday season? Do not miss out on the experience. Travel around the world with these imaginative kid tested activities currently featured on Kids Activities Blog.
One Moms resourceful idea to let the kids experience travelling around the world turns into one of the most creative blogs this season. Play with the kids traveling around the world three times in one afternoon, by matching world animal cards, pictures of Olympics countries, and portraits of kids from all over the world to a laminated map. The links to the cards and maps can be found on Kids Activities Blogs as well as game variations for the different ages of the kids.
The kids will love to match the animal cards and do not be surprised at how much they already know. The Olympics are a great way to teach about the location of the counties around the world. Lastly, the kids of the world cards will teach the kids different customs, clothes, and traditions of the kids around the world. Playing the game will culturally enrich the child.
In addition, world crafts perfect for the afternoon at home during the holiday season includes weaving projects, to make bracelets and other items. All of the activities foster early motor skill development as well as provide a deeper cultural understanding for countries and customs around the world.
Come check out these and other international activities for the kids during the holiday season on Kids Activities Blog.
About Kids Activities Blog
Kids Activities Blog is a website created by two moms (who collectively have 9 children), Rachel Miller and Holly Homer from June Cleaver Nirvana. It is their daily goal to inspire parents and teachers to play with kids. This interactive website publishes simple things to do with kids twice a day. Kids Activities Blog is a great tool for moms and teachers to find kid-friendly activities that create memories and sneak learning into the fun.