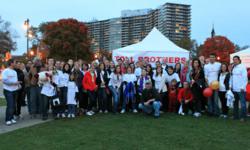 During the 2012 campaign, "Team Toll Brothers", through its 22 teams, raised an astonishing $58,492.92.
Horsham, PA (PRWEB) December 05, 2012
For the third consecutive year, Toll Brothers, the nation's leading builder of luxury homes, sponsored national "Light the Night" walkathons to help raise money and awareness in support of The Leukemia & Lymphoma Society. Toll Brothers' participation in Light the Night began in 2010 to honor the memory of Joel Rassman, the Company's long time Chief Financial Officer, who lost his two-year battle with leukemia that same year. The walks have also become a way for many Toll Brothers employees to honor and show support for their own loved ones who have been touched by leukemia, lymphoma, hodgkins, or myeloma.
Employees joined in record numbers to participate in walks which took place nationally throughout September, October, and November starting with the Company's Colorado Division on September 27, 2012 and ending with the Company's New York Metro Division on November 27th. Hundreds of Toll Brothers associates, family and friends along with Mr. Rassman's wife Sharon, and son David Brody participated in the walks. During the 2012 campaign, "Team Toll Brothers", through its 22 teams, raised an astonishing $58,492.92.
Toll Brothers has sponsored Light the Night walks in Tempe, Arizona; Anaheim and Walnut Creek, California; Newtown, Connecticut; Denver, Colorado; Fort Lauderdale, Jacksonville, and West Palm Beach, Florida; Glenview, Illinois; Worcester, Massachusetts; Ann Arbor, Michigan; Long Branch, New Jersey; New York City and White Plains, New York; Philadelphia, Pennsylvania; Houston and San Antonio, Texas; Reston, Virginia; and Seattle, Washington.
Held on fall evenings in communities across the U.S. and Canada, Light the Night Walk is The Leukemia & Lymphoma Society's walk and fundraising event to pay tribute and bring hope to people battling cancer. Thousands of participants raise funds for vital, lifesaving research and patient services and, on these special nights, they carry illuminated balloons in a show of support from a caring community.
Anyone can take part - children, adults, and seniors are all welcome. This is a casual fundraising walk with no fitness requirements. People can participate by walking individually or as part of a team; by making a donation online; or by becoming a volunteer or sponsor/partner.
To learn more about the Toll Brothers' fundraising efforts or to contribute, please visit http://pages.lightthenight.org/2012/tollbrothers.
Funds raised through Light the Night Walk support the work of hundreds of the world's best and brightest researchers in their search for better therapies and cures for leukemia, lymphoma, and myeloma.
Toll Brothers began business in 1967 and became a public company in 1986. Its common stock is listed on the New York Stock Exchange under the symbol "TOL." The Company serves move-up, empty-nester, active-adult, and second-home buyers and operates nationwide.
Toll Brothers builds luxury single-family detached and attached home communities; master planned luxury residential, resort-style golf communities; and urban low-, mid-, and high-rise communities, principally on land it develops and improves. The Company operates its own architectural, engineering, mortgage, title, land development and land sale, golf course development and management, home security, and landscape subsidiaries. The Company also operates its own lumber distribution, and house component assembly and manufacturing operations.
The Company was named 2012 Builder of the Year by Professional Builder magazine (http://www.housingzone.com) and becomes the first builder to win this award twice. Toll Brothers is honored to have won two other coveted awards in the home building industry as well: America's Best Builder and the National Housing Quality Award. The Company was also ranked #1 in 2011 and 2010 in Financial Soundness, Long-Term Investment, and Quality of Products/Services in FORTUNE magazine's annual World's Most Admired Companies survey in the home building category.
Toll Brothers proudly supports the communities in which it builds; among other philanthropic pursuits, the Company sponsors the Toll Brothers - Metropolitan Opera International Radio Network, bringing opera to neighborhoods throughout the world. For more information, visit TollBrothers.com.
This is not an offering where prohibited by law.