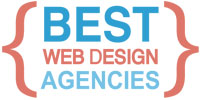 Clikzy Creative Named Second Best Web Design Company by bestwebdesignagencies.com for December 2012
(PRWEB) December 06, 2012
The independent authority on web design and development, bestwebdesignagencies.com, has released their list of the fifty best web design companies in the United States for the month of December 2012. Clikzy Creative has been named the second best web design company as a result of a monthly evaluation of their services highlighting their strengths and competitive advantages. Businesses use the rankings each month to find top performing web design companies to assist them in creating a strong online presence.
Clikzy Creative is more than just a web design company. They produce custom design solutions for businesses looking for something to catch the attention of potential customers. While producing effect visual designs, Clikzy creates business-oriented websites for those looking for a strong visual appeal for lasting effect and a louder-than-words experience. They assist in identifying the needs of each client and then proceed to creative an effective solution to meet their needs.
bestwebdesignagencies.com produces the monthly rankings through a meticulous evaluation process which delves into five areas of evaluation most commonly associated with the best web design services available in the industry. These five areas include project analysis, design analysis, design quality, stock quality, and ease of access. The results are compared across various web design agencies in order to determine which provide the best overall service.
Time is also spent researching various web design companies and their contribution to the industry as a whole. In addition, the bestwebdesignagencies.com research team connects with customer references in order to obtain their own unique perspectives on the services which they have been provided. Customers are asked various general and specific questions about the project and the final product while also learning about their communications with the vendor. Customers also contact bestwebdesignagencies.com independently to commend or complain about a specific vendor.
The results of the evaluation are posted each month on bestwebdesignagencies.com. The results of the evaluation for the month of December have resulted in Clikzy Creative being named the second best web design company in the industry. Their strong attention to detail, effective aesthetics, and experienced design team has led to their listing as one of the top web design companies. Those looking for a professional and creative design company to help them with their web design needs should consider Clikzy Creative.
ABOUT bestwebdesignagencies.com
bestwebdesignagencies.com is an independent research firm with a dedication to providing a list of the best web design companies and web development firms in the industry. Through meticulous research and developed methods for evaluating and ranking companies, bestwebdesignagencies.com has provided customers of web design and development services with a great resource to find a top performing web design company. Evaluations are carried out by a specialized team of researchers who examine thousands of applicants each month. bestwebdesignagencies.com provides their rankings free of charge to companies and individuals searching for a quality web design firm or looking for other design and development services with updates being provided on the first of each month. The website also provides information and resources for those looking to learn more about web design and development services.
To view the rankings of the best web design companies visit:
http://www.bestwebdesignagencies.com/rankings-of-best-web-design-companies
To learn more about Web312 visit: