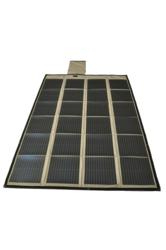 "It's always a win when we can increase our operational efficiency while improving product quality to our customers."
Ames, IA (PRWEB) December 07, 2012
PowerFilm, Inc. today announced the release of the next generation of their folding solar chargers, improving durability and longevity of the industry's best portable modules, while reducing overall unit weight.
Utilizing a new proprietary manufacturing process, the foldable solar chargers now feature improved resistance to salt spray, increasing the survivability of what is already the most durable solar panel globally by adding improved environmental ruggedness to it's already impressive list of features.
"We have been working hard to further strengthen our industry leading foldable solar charger," mentioned Sales and Marketing Vice President, Ron Mason. "In addition to reaffirming our position for supplying the most durable units, our internally developed manufacturing equipment and process has automated a significant portion of our building process, making us faster and better positioned to respond to increasing demand for our products."
The company has started using the new thermal process in creating its large portable foldable solar chargers. Available now in the 30, 60, 90, and 120 watt size panels, PowerFilm intends to continue to deploy the new manufacturing process across additional product lines.
"With this new lamination and thermal bonding process, we have not only increased the reliability of our products, our modules are now placed on fabric more precisely thanks to our new 'pick and place' machine," said Vice President of Operations, Pat Rundall. "It's always a win when we can increase our operational efficiency while improving product quality to our customers."
In addition to reducing the unit weight while increasing durability, the new foldable solar panels have been designed to meet and comply with the rigorous Mil Spec 810 G for salt-fog.
PowerFilm Foldable Solar Chargers, while developed for use by the Armed Forces, are available at the retail level and can be found at various locations across the Internet. For a list of retail locations visit http://www.powerfilmsolar.com/how-buy
About PowerFilm Solar
PowerFilm, Inc. is a developer and manufacturer of thin, flexible solar panels based on a proprietary production process. The company's objective is to target portable and remote solar power applications, the government and military market, and the building integrated solar power market. Further, PowerFilm is focused on creation of complete solar solutions in select markets in partner organizations possessing the branding and distribution to drive products to market. PowerFilm is based in Ames, Iowa.
PowerFilm was founded in 1988 by Dr. Frank Jeffrey and Dr. Derrick Grimmer, both former 3M research physicists, with a combined 65 years of experience in semiconductor and solar energy research and development. http://www.powerfilmsolar.com