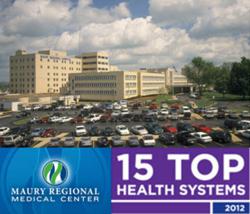 The MEDSEEK enterprise patient portal is dynamic, intuitive and user-friendly, helping us build valuable relationships, exceed patient expectations and meet Meaningful Use Stage 2 and beyond,' states Jim Parcel, CIO, Maury Regional Medical Center.
(PRWEB) December 05, 2012
Maury Regional Health System, one of the Nation's Top Small Health Systems and MEDSEEK, the provider of the healthcare industry's only enterprise strategic patient engagement platform, will collaborate to engage patients and families in their health through state-of-the-art health management tools.
As a leader recognized for quality care, finding a best in breed patient engagement solution backed by a reputable company was a top priority for Maury Regional. To ensure they made the best decision, a multi-disciplinary team was formed including the Chief Information Officer and representatives from marketing, finance, IT and patient access. Having diverse perspectives and personalities assess the options gave the health system an all-encompassing view of what solution would best serve their patients, community and staff. "We are dedicated to providing high-quality, patient-centered care and excellent customer service, and MEDSEEK was the stand-out choice to support our mission," states Jim Parcel, CIO, Maury Regional Medical Center. "The MEDSEEK enterprise patient portal is dynamic, intuitive and user-friendly, helping us build valuable relationships, exceed patient expectations and meet Meaningful Use Stage 2 and beyond."
Maury Regional views the MEDSEEK patient portal as an extension of their brand, lengthening continuity and coordination of care beyond the four walls of the healthcare facility. "The MEDSEEK solution can help us educate, engage and activate patients in their health management— impacting outcomes both pre-admission and post-discharge," states Rita Williams, Director of Marketing for Maury Regional. Reinforcing healthy behaviors through the patient portal, especially with those recovering from a hospital stay or with a chronic disease, can further increase patient compliance and help lower readmissions.
"Every day, we are focused on making healthcare easier for patients," says Peter Kuhn, MEDSEEK CEO. "The MEDSEEK solution is interactive, helping patients collaborate in their health with providers. Partnering with Maury Regional gives us the opportunity to further enhance their patient-centered approach by equipping patients to successfully participate in their care."
"The proven interoperability experience MEDSEEK has integrating Meditech, ambulatory and acute settings were huge for us," states CIO, Jim Parcel. "We want our portal to be a seamless one-stop-shop for patients to securely access their consolidated inpatient and outpatient data and manage their health with one login, from anywhere." Patients having online access to their health information, regardless of their location, will ultimately enhance population health, a strategic goal of Maury Regional, as well as government programs such as Meaningful Use, Medicare Readmissions Reduction Program and CMS Accountable Care Organizations.
To gain further insight on how your healthcare organization can meet patient expectations and meaningful use objectives, join us for the upcoming webinar, Prep for Patient Engagement, on January 16, 2013, 1pm CST or contact MEDSEEK at marketing(at)medseek(dot)com or 1.888.MEDSEEK.
About Maury Regional Medical Center
Maury Regional Medical Center is a 275-bed facility that serves more than 260,000 people in middle Tennessee with a staff of more than 200 physicians. From a comprehensive interventional and surgical heart program to a neonatal intensive care and cancer center, the medical center offers a wide range of advanced services. Maury Regional is the largest hospital between Nashville, Tennessee and Huntsville, Alabama and is the second largest employer in the region. The medical center has been recognized by Thomson Reuters in 2011 and 2012 as one of the nation's Top Health Systems and, over the past three years has been designated a Thomson Reuters 100 Top Hospital and 50 Top Cardiovascular Hospital. For more information, visit mauryregional.com.
About MEDSEEK
Since 1996, MEDSEEK has focused exclusively on creating a strategic patient engagement platform comprised of web, mobile, social and predictive analytic solutions. The MEDSEEK Engage platform provides an integrated set of capabilities to help organizations significantly influence healthcare consumer behaviors to drive revenues, contain costs and better balance the financial equation, while simultaneously empowering individuals with the personalized information and tools they need to serve as active participants in their health. With MEDSEEK technology, hospitals and health systems can better predict the needs of their patient population, uncover new sources of revenue, empower patients and families as participants in their care, lower healthcare costs and provide a superior online healthcare experience that results in lasting health-related loyalty. MEDSEEK has over 200 customers representing over 1,100 hospitals including many of the top hospital systems in the United States and Canada.