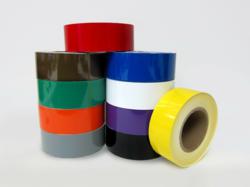 "SafetyTac tape has become one of our best tools when designing a room. We have saved so much on time and back pain by using the tape to design the room before moving in or rearranging furniture. Thank you SafetyTac.com!"
Lake Oswego, OR (PRWEB) December 12, 2012
Interior designers have discovered a great solution to marking off floor areas when designing a room floor plan. SafetyTac tape, supplied through Safetytac.com, is being used by many interior designers across the nation as the new tool for marking off furniture and sitting room areas when designing or redecorating a room. Marking off areas where pieces of furniture should be placed before actually moving around furniture saves time and energy. Using floor marking tape as the measurement of specific furniture will assure the piece of furniture will fit in the space. Moving heavy furniture around numerous times in a room to see if it will fit can cause personal injury and possible damage to the furniture from bumps and scratches caused by accidentally dropping the piece of furniture.
Safetytac tape comes in a variety of color making it ideal for interior designers to use certain colors that represent a piece of furniture, rug or accessory that will be placed in the room. The Smart Stripe Floor Tape is the smart choice for light to medium traffic environments and therefore is a great product for use in designing or redecorating a room. The tape has a super thin profile making it ideal for foot traffic and furniture dollies to move over the top of it without even feeling a bump, while the strong adhesive keeps it in place. The tape application conforms to all surfaces and it has a simple and easy peel-&-stick installation feature. A home designer commented, "SafetyTac tape has become one of our best tools when designing a room. We have saved so much on time and back pain by using the tape to design the room before moving in or rearranging furniture. Thank you SafetyTac.com!"
For more information about Safetytac tape, please visit http://www.safetytac.com/categories/SafetyTac-Tape/ or call toll-free (888)246-6770 to speak with a professional representative.