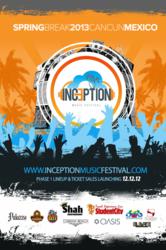 "We have been working on this concept for a couple years now, so to see it finally become a reality is really cool." – Terry Cabell, Director of Entertainment & Marketing at StudentCity
Boston, MA (PRWEB) December 05, 2012
While this is the first year for Inception, StudentCity and partner, Shah Entertainment, are no strangers to big events in Cancun. During Spring Break 2012, the two companies combined to produce concerts featuring Avicii, Chuckie, Laidback Luke, Dayglow, Lil Jon, Manufactured Superstars and many more. "Cancun is the perfect place for an EDM festival, and Spring Break is the perfect time to host. The big name DJ's really like to play Cancun during Spring Break." said Shah Shapourifar, President at Shah Entertainment.
For music festival junkies or travelers craving something new and exciting for Spring Break 2013, Inception is the ultimate culmination of traveling with ease, partying with the professionals, and staying in style. The Oasis Cancun well serve as the host hotel for day parties and entertainment; exclusive deals are available at http://www.studentcity.com.
StudentCity is a Boston-based student tour operator specializing in Spring Break trips and entertainment for college students. Shah Entertainment is an event promotion and production company located in Cancun, Mexico.