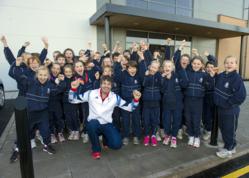 (PRWEB UK) 5 December 2012
Olympic gold and silver medallist and triple World Champion rower, Zac Purchase MBE, joined schoolchildren in a "Get Active" session after officially opening the new David Lloyd Leisure club in Worcester today (Wednesday, December 5).
Zac, 26, who won silver at the London Games and gold at Beijing in 2008, encouraged youngsters from two junior Worcester schools to be fit and active by taking part in the PE lesson with a difference, featuring games and races.
Some 40 children from King's Hawthorn and King's St Albans school, affiliated to King's School Worcester – where Zac attended as a pupil - were given the chance to meet their sporting hero, who cut a ribbon to mark the club's launch.
Zac said: I am delighted to officially open David Lloyd Leisure's new club for the Worcester community - an absolutely stunning club, offering families and individuals a fantastic array of health, sports and leisure facilities.
"After the most amazing year of sport for the UK, it is very appropriate for me to open a state-of-the-art facility like this offering a superb environment, programmes, coaching and expertise for the community to achieve their health and fitness goals."
He added: "David Lloyd Leisure works incredibly hard to help families stay active together and to nurture young sporting talent. The 'Get Active' session is a great way to show youngsters that doing sport and exercise is fun, while showing them the importance of following a healthy lifestyle.
"It's so important to engage children from an early age if we are to support the future development of sport while encouraging youngsters to keep active and fit into adulthood. Parents, too, have a vital role to play; without the unwavering support of my own parents, who took my Olympic dreams seriously when I was young, I would never have achieved all that I have."
The grand opening was attended by Scott Lloyd, chief executive of David Lloyd Leisure, which is Europe's premier health, sports and leisure group.
Scott said: "David Lloyd Worcester is our 81st club in the UK and opens during a milestone year in that we are celebrating three decades since opening our first club. This latest club demonstrates that, 30 years on, we are just as determined and dedicated to investing in the best health, sports and leisure facilities for local communities and generating new jobs. We are very proud that some 70 jobs have been created here in Worcester.
"David Lloyd Worcester is a shining example of our core aims – providing unrivalled facilities, innovative products and world-class expertise for the whole family, delivered by highly qualified professionals genuinely focused on encouraging and supporting members every step of the way to achieve their health and fitness goals."
Representing an £8m investment and built by Dutch construction company Pellikaan, David Lloyd Worcester is a stunning 5,600sqm complex featuring three indoor and five outdoor tennis courts, indoor and outdoor pools, gym, three exercise studios, a wet spa area, DL Kids classes and activities with an outdoor play area and crèche, two physiotherapy rooms and a DLicious cafébar .
Wayne Isaac, general manager at David Lloyd Worcester, said: ""After several months of very hard work, it is wonderful to see the club finally open, and I can honestly say that David Lloyd Worcester's facilities are second to none. It is a real honour that in this incredible year of sport, Zac Purchase, who has achieved so much in his field, should come back to Worcester to open these spectacular facilities.
"It is our aim to make every member's visit to this club a wonderful experience. Whether you're coming for an early morning workout, brushing up on your tennis skills, taking a dip in the pool at lunchtime or catching up with your friends, I want David Lloyd Worcester to be an integral part of members' lives that caters to their every sports, health and leisure need."
He added: "I look forward to continuing to develop our community relationships over the years to come, particularly with the Worcester Warriors whose support throughout this project has been unwavering and invaluable."
The official opening saw Worcester Warriors, whose Sixways Stadium home ground is next to David Lloyd Worcester, prove they were game for a laugh when some of the team swapped conversions for a master class in Bokwa, the latest dance craze sweeping the UK. Available at David Lloyd clubs across the country, it gives an intense cardiovascular workout with moves from South African war dance, Capoeira, kickboxing and step, combining footwork based on the alphabet and numbers with hand signals and American sign language.
For more information, visit http://www.davidlloyd.co.uk/worcester. For membership information, call 0845 129 6751.
ENDS
Note to Editors: Photographs of Zac Purchase and the Worcester Warriors at David Lloyd Worcester are available from the David Lloyd Leisure press office on 01707 289833/4 or press (at) davidlloyd (dot) co (dot) uk
About David Lloyd Leisure Group
The David Lloyd Leisure Group operates 81 clubs in the UK and a further 10 clubs across Europe. It has over 440,000 members and employs 6,000 people. This includes an expert health and fitness team of over 1,800 and the services of more than 350 tennis professionals. Across all clubs, David Lloyd Leisure has over 150 swimming pools (of which half are indoor) and offers over 10,000 exercise classes per week. Every week 20,000 children learn to swim at David Lloyd Leisure and 14,000 learn to play tennis. Its racquets facilities are unparalleled with 700 tennis courts as well as 180 badminton courts and 140 squash courts. Additional facilities include health and beauty spas, club lounges with free internet access, crèches, nurseries and specialist sports shops.
About Zac Purchase
Zac Purchase is one of Britain's most talented and inspirational athletes. He has won a string of titles throughout his career and is one of Britain's most successful British lightweight rowers with three world championship titles and two Olympic medals to his name. At 22, he won Team GB's first ever lightweight Olympic gold medal in the Men's Lightweight Double Sculls with his rowing partner Mark Hunter in Beijing, after an undefeated 2008 season. In the 2009 New Year's Honours List, Zac was appointed Member of the Order of the British Empire (MBE) in recognition of Services to Sport. Most recently, together with Mark, he won a silver medal at the London 2012 Olympic Games in one of the closest and most emotional finals of the Games.