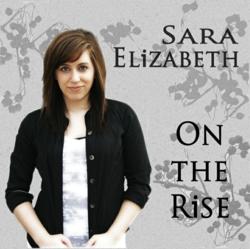 Lansing, Illinois (PRWEB) December 07, 2012
Several famous singers, including the Everly Brothers, the Osmond family, Selena and Tiffany Evans, have hit the books at the American School before hitting the charts. Now, 2008 graduate Sara Elizabeth Genco is ready to join that hit parade.
Her debut CD, On the Rise, was released in June 2012 and has the perfect title for someone whose music career has an upward trajectory. Since graduating from college earlier this year, Sara Elizabeth has worked full-time as a singer-songwriter, playing at festivals and weddings and in coffee houses, bars, churches and even a cupcakery, with many more concerts and perhaps another album in the works for 2013.
"I do contemporary folk music with a sound similar to Ingrid Michaelson," said Sara Elizabeth, whose other musical influences include the Beatles and Regina Spektor.
A native of Alden, New York, Sara Elizabeth began playing guitar at age nine and later added piano, ukulele and harmonica to her repertoire. Musical instruments, however, were not the only things Sara Elizabeth was learning, as she devoted a great deal of time to her American School curriculum after she completed eighth grade. Her hard work allowed her to graduate from the American School in just three years.
"I was homeschooled since third grade, and when it came time for high school, we were looking for an accredited school with good coursework and prices," Sara Elizabeth said. "We did our research and chose the American School. I really liked the overall format and the ability to work at my own pace and have independence."
Sara Elizabeth, whose older sister Stephanie graduated from the American School in 2006, listed Psychology, Careers, History and English Literature as her favorite courses in a curriculum that prepared her to attend college at the University of Buffalo near her home. There, she earned a BA in Music with a concentration in Composition and Music Technology.
"The American School definitely prepared me for college," Sara Elizabeth said. "I was 16 when I started (the University of Buffalo), but I had a big advantage because I took similar courses in high school and college. The result was that I graduated from college two years earlier than most people my age."
In the future, Sara Elizabeth plans to continue making music, and if her rise continues, you might just hear her songs in films and commercials and on your favorite radio station.
For more information about this rising star, visit http://www.saraelizabethmusic.com or find her on Facebook at http://www.facebook.com/musicseg.