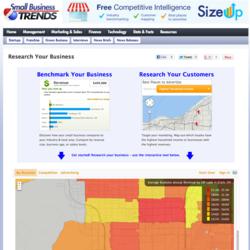 "SizeUp helps entrepreneurs grow their companies and reduces small business failure," said Anatalio Ubalde, CEO of SizeUp.
Cleveland, OH / San Francisco, CA (PRWEB) December 05, 2012
Five million readers of Small Business Trends magazine have a new free business intelligence tool at SmallBizTrends.com/Research-Your-Business. Small Business Trends has formed a partnership with SizeUp, an online resource that enables businesses to gather highly specific data on every industry and geographic region – including revenues, salaries, health insurance costs, supplier locations and more.
"This partnership with SizeUp makes our award-winning online publication even more valuable to our audience of small business owners and entrepreneurs," said Anita Campbell, CEO of Small Business Trends. "We are now providing access to demographic, industry, business, geographic, competitiveness, and cost-of-business data that large corporations use every day."
Specifically, SizeUp super crunches millions of data points from both public and private sources to provide three core features:
1. Map of the competition: Business owners can map where competitors, customers, and suppliers are located, and can use the map to isolate areas with many potential customers but little competition.
2. Benchmark a specific business: Entrepreneurs can see how their business "sizes up" by comparing their performance to all competitors in the industry.
3. Find the best places to advertise: Business owners can identify areas with the highest revenue for an industry, the most underserved markets, and can create custom demographic and business reports.
"We're thrilled to partner with Small Business Trends, and we believe its audience of millions of small business owners will greatly benefit from our free web tool," said Anatalio Ubalde, CEO of SizeUp. "By leveling the business information playing field, SizeUp helps entrepreneurs grow their companies and reduces small business failure."
SizeUp launched in late 2011 as a TechCrunch Disrupt Battlefield finalist, and was awarded first prize in the Department of Commerce's Business Apps Challenge in 2012. In September, the U.S. Small Business Administration began using SizeUp on its website to help small businesses.
About SizeUp
SizeUp (http://www.SizeUp.com) is a small business intelligence website that helps small businesses become smarter, more profitable, and more competitive. It enables small business owners to benchmark themselves against competitors, find the best places to advertise, and map their competitors, customers, and suppliers. SizeUp is a service of GIS Planning (http://www.gisplanning.com), the world leader in online economic development solutions.
About Small Business Trends, LLC
Small Business Trends, LLC is in the business of providing information, news, advice and online community to small businesses and entrepreneurs. The company was founded in 2003 and is based in Ohio. Its flagship website, Small Business Trends, is one of the leading sources of commentary, information and online community touching over 5,000,000 small businesses annually.