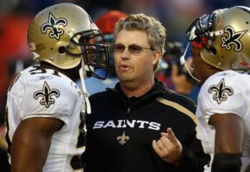 "I played for Gregg Williams and I would do it again in a heartbeat," said Antonio Pierce.
Nashville, TN (PRWEB) December 05, 2012
Former defensive coordinator for the New Orleans Saints, Gregg Williams, was suspended indefinitely by the NFL this past March after directing a bounty system aimed at injuring opponents. Williams is also assumed to have testified against some of his former players, in NFL hearings, regarding their bounty-related suspensions. Yet, nearly 37% of the 144 NFL players polled by SOTL.com said they'd still want to play for the disgraced coach today.
Williams has gone on record to say, "I accept full responsibility for my actions." He added that he'll do anything he can to earn back the respect he has lost and wants to return to coaching.
Those who backed Williams included ESPN analyst Antonio Pierce, who played for Williams as a linebacker on the 2004 Washington Redskins.
"I played for Gregg Williams and would do it again in a heartbeat," Pierce said.
Former NFL cornerback Reynaldo Hill said of Williams, "No question he is the type of coach that can bring players to a level of play that they don't even know that's in them."
Among Williams' critics is eight-year NFL veteran Terry Jackson who commented: "If he's prepared to speak against players now, what would make me think he wouldn't do the same in the future?"
Eric Alexander, who spent seven seasons as an NFL linebacker, added, "Regardless of what was going on in New Orleans, you don't sell out your players like that. You can't play for someone like that."
To read all the player comments on the site, link to the poll here: http://www.sotl.com/polls/view/48
More About School of the Legends / SOTL.com& SOTLTraining.com
SOTL.com was founded in 2009 as a social media and news site, an Officially Licensed Product of the NFL Players Association, and serves as "The Voice of the Players"™ with more than 2,500 current and former players contributing to the site. SOTL.com features weekly football and lifestyle blogs by dozens of NFL players and alumni, including Jerome Bettis, Barry Sanders, Patrick Peterson, Will Smith, Dwayne Bowe, Cliff Avril and others. SOTL.com is the player's site where they comment directly on football news stories of the day and contribute to exclusive player polls that give fans their perspective on the league's most important issues.
The sister site, SOTLTraining.com, is the premier online source for football training classes with the instructional video series "Legends in Training" that feature players such as Peyton Manning, Larry Fitzgerald and Tony Gonzalez to name a few as well as instruction from professional coaches and trainers. SOTL.com and SOTLTraining.com are official licensed partners of NFL Players, Inc.