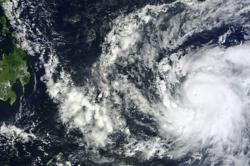 Sarasota, Fla (PRWEB) December 05, 2012
International disaster relief organization, ShelterBox, is in the Philippines after Typhoon Bopha carved through the southern islands, leaving hundreds dead and thousands homeless.
ShelterBox responds immediately to disasters such as earthquake, volcano, flood, hurricane, cyclone, tsunami or conflict, by delivering boxes of aid. Each box includes a disaster relief tent, water purification kit, cook-stoves, blankets and other supplies that help families survive and rebuild their lives in the days, weeks or months following disaster.
A highly trained ShelterBox Response Team (SRT) is assessing the need for emergency shelter and other aid in some of the islands' hardest-hit regions.
Typhoon Bopha struck northern Palawan with winds over 90 miles per hour. Coastal, farming and mining regions were affected by the typhoon, with Compostela Valley province, in eastern Mindanao, thought to have been the hardest-hit area. It is estimated that around 70 percent of the region's agricultural land has been damaged.
Many regions remain isolated due to power outages, lack of communications and damaged roads and bridges. Thousands of people are reported to be in need of temporary shelter having lost their homes to the typhoon.
ShelterBox is also responding to the Syrian refugee crisis in Iraq Kurdistan, earthquakes in Guatemala, and flooding in Nigeria, Senegal and Uganda.
ABOUT SHELTERBOX USA
Since 2000, ShelterBox has provided shelter, warmth and dignity following more than 200 disasters in over 85 countries. ShelterBox instantly responds to earthquake, volcano, flood, hurricane, cyclone, tsunami or conflict by delivering boxes of aid. Each iconic green ShelterBox contains a disaster relief tent for an extended family, stove, blankets and water filtration system, among other tools for survival. ShelterBox's American affiliate, ShelterBox USA is headquartered in Sarasota, Florida. Individual tax-deductible donations to ShelterBox USA can be made at http://www.shelterboxusa.org, 941-907-6036 or via text message by sending SHELTER to 20222 for a one-time $10 donation.