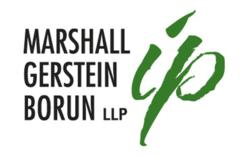 Marshall, Gerstein & Borun is proud that Dr. Rin-Laures has been chosen as a distinguished Rainmaker by the Minority Corporate Counsel Association," said Jeffrey S. Sharp, Managing Partner, Marshall, Gerstein & Borun
Chicago, IL (PRWEB) December 07, 2012
Marshall, Gerstein & Borun LLP partner Li-Hsien (Lily) Rin-Laures, M.D. has been named a Minority Corporate Counsel Association (MCCA) 2012 Rainmaker. Dr. Rin-Laures is one of four women on the short list of 17 attorneys featured in the November/December 2012 issue of MCCA's Diversity & The Bar magazine.
"Marshall, Gerstein & Borun is proud that Dr. Rin-Laures has been chosen as a distinguished Rainmaker by the Minority Corporate Counsel Association," said Jeffrey S. Sharp, Managing Partner, Marshall, Gerstein & Borun. "Clients value the exceptional talent she brings to her work, and we are thankful for her outstanding contributions to our Firm."
Each year, MCCA spotlights an elite class of minority lawyers from across the nation. To be selected, the MCCA Rainmakers must have achieved success through innovative, consistent and proactive business development. Each attorney recognized maintains a book of business of at least $2 million a year and demonstrates dedication to client service.
With over two decades of experience focused in biotechnology, pharmaceutical and life sciences intellectual property law, Dr. Rin-Laures is a leading partner in "one of the best biotechnology practices in the country," as ranked by Chambers USA. Dr. Rin-Laures, who is a former General Counsel of a publicly-held biotechnology company, regularly counsels clients from Fortune 500 companies to startups. Her insider's perspective, technical expertise, and wide-ranging industry knowledge acquired from planning and managing intellectual property strategy for numerous commercial products enables her to be a valuable strategic partner to her clients.
In addition to this recent honor, Dr. Rin-Laures has been designated as one of "40 Illinois Attorneys Under Forty to Watch" by the Law Bulletin Publishing Company, repeatedly named an "Illinois Super Lawyer" by Thomson Reuters, selected several years as a "Leading Lawyer" by the Chicago Daily Law Bulletin's Leading Lawyers Network, and was recently named as a "Life Science Star" in Managing Intellectual Property's LMG Life Sciences 2012. She is also a founding member and past-president of Women in Bio's Chicago Chapter, an organization for women in biotechnology innovation and commercialization.
Read Dr. Rin-Laures' 2012 "Leading Law Firm Rainmakers" profile here.
About Marshall, Gerstein & Borun
Marshall, Gerstein & Borun LLP is exclusively focused on intellectual property law, and protects, enforces, and transfers the intellectual property of its clients in more than 100 countries on six continents. The Firm delivers perspective and guidance where science, technology, and law converge. Nearly half of the Firm's professionals have been in-house as general counsel, patent counsel, technology transfer managers, scientists, engineers, and consultants, and offer depth of talent and seasoned experience in devising and executing intellectual property strategy and comprehensive IP solutions. The Firm represents Fortune 250 corporations, multinational businesses, start-up organizations, and non-profits. Marshall, Gerstein & Borun LLP is ranked as a top intellectual property law firm by Chambers USA, U.S. News & World Report and Best Lawyers, as well as Corporate Counsel, Managing IP, Fortune, Intellectual Property Today, and Intellectual Asset Management magazines. Learn more at http://www.marshallip.com.