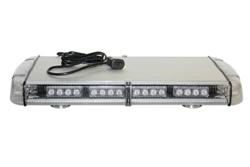 Brooklyn, NY (PRWEB) December 05, 2012
Police Lightz continues to expand its line of emergency warning lights by announcing the availability of its popular ResQ LED light bar beyond the mini size and into the full size light bar market.
With a sleek aluminum housing, the new sizes of the ResQ light bar series bring many features found on more expensive bars into a more affordable bars without compromising on quality or reliability. The new sizes include the new generation of the ResQ Mini, ResQ 27", ResQ 48" and an oversized ResQ 60" for larger vehicles and fire trucks.
The new design of the ResQ removes the grooved body style and upgrades it to a smooth, more discreet look, giving the light bar an undercover, aerodynamic feel. Each module has also been upgraded to include four 1-watt LEDs within the same amount of space providing more the user with a 33% increase in warning capability.
"Expanding the ResQ series of light bar provides emergency personnel and a wide variety of industries with a full size light bar option without the high price tag. The ResQ comes packed numerous standard features and the quality that people trust. We are looking to provide an alternative for the industry professional with a noticeable warning light that can be used to light up an area, direct traffic or simply warn motorists and pedestrians." said Ariel Cohen, Director of Marketing for Police Lightz.
Available in the ResQ Mini and ResQ 27", the mini light bars in the ResQ series come standard with a two switch cigarette plug and four 60 pound magnets for easy installation and mounting. These two bars are both come packed with 12 self-contained flash patterns and four Generation III LEDs in each of the front and rear facing modules. The mini bars, while standard with a plug-n-play setup, can be hardwired into any universal switch box for more permanent installation.
For the first time the ResQ series is also available in full size with 48" and 60" light bar options. Available with a standard six switch control panel, the full size bars in the ResQ series come with 32 self-contained flash patterns, an integrated arrow/directional stick and universal mounting brackets for permanent installation. The six switch control panel comes with push buttons for easy operations of all functions including, power, pattern changer, and individual switches to control the arrow stick.
The Police Lightz ResQ series mini light bars are available starting at 419.99 and the ResQ series full size light bars start at 849.99. All Police Lightz products come with a standard, 2 year limited warranty and can be purchased online at Emergency City.
Whacker Technologies, Inc., is headquartered in Brooklyn, NY and is the parent company of Whacker Technologies, Police Lightz, and Emergency City. Whacker Technologies manufactures and sells interior and exterior police lighting, sirens and accessories for vehicles of many industries. For more information please visit http://www.whackerusa.com.